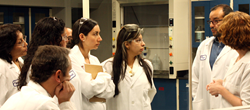 This is a great opportunity for Charm Sciences to reach out directly to the customers we value so deeply.
Lawrence, MA (PRWEB) October 30, 2014
Two separate delegations of dairy quality executives from Latin America were hosted by Charm Sciences at its Andover, Massachusetts facility in September and October. During their week in the US, the participants discussed international systems for dairy safety and chemical residue control, hygiene management, and process verification, and received hands-on technical training in Charm Sciences' state-of-the-art facility.
This was the first visit to the United States for many of the participants. Charm Sciences worked with local dairy facilities to arrange field visits for these guests, which provided invaluable experience in learning how US milk producers and processers manage dairy quality along the value channel from farm to consumer. Visits to local dairy farms focused on milk quality improvement and animal health and feed management while trips to milk testing laboratories offered insight into quality and safety monitoring and control systems. Seminar topics and discussions covered feed and herd management, milking, milk transport, sanitation, residue testing and end-product testing.
According to one participant, "The technical, market and regulatory information and materials provided were excellent, and the exchange between participants was very enriching." Another commented, "The program opened my perspectives about different technologies, and it's important that the information was technical and not just commercial."
Participants also visited both Charm Sciences manufacturing facilities and learned about the Charm Sciences Quality System. A dairy quality manager from Brazil commented, "What most caught my attention was Charm's concern for guaranteeing their quality, including manufacturing their own equipment and reagents rather than outsourcing."
Rachel Kopay, International Sales and Marketing Manager, was very pleased with the results of these two seminars. "This is a great opportunity for Charm Sciences to reach out directly to the customers we value so deeply. We hear the concerns for the dairy industry in their region, and work together to resolve existing problems and jump ahead of the curve in industry trends. This type of interaction is crucial in today's market."
About Charm Sciences, Inc.
Charm Sciences is a world leading provider of food safety, water quality and environmental diagnostics equipment. Charm's portfolio includes test kits and systems for antibiotics, mycotoxins, and ATP hygiene. Selling directly and through its network of distributors, Charm products serve the food, beverage, water, pharmaceutical, medical, personal care, environmental, and industrial markets in more than 100 countries. Customers rely on Charm products for excellence in quality, innovation and customer support.
© 2014 Charm and ROSA are registered trademarks of Charm Sciences, Inc.