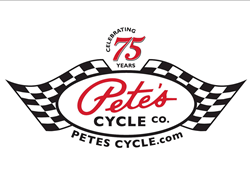 per John Leach of Petes Cycle Excited about the new features in 2015
Baltimore, MD (PRWEB) November 04, 2014
All-New 2015 YZF-R3
Petes Cycle is proud to announce the newest member to join the acclaimed R-Series, the all-new YZF-R3.
Bred from the ground up using Yamaha R Series DNA the YZF-R3 features a 320cc, liquid-cooled, in-line two-cylinder, DOHC, fuel injected engine tuned to deliver excellent power and performance throughout the powerband.
Legendary R-Series styling with a full fairing gives the YZF-R3 that destined for the racetrack look and the low seat height of 30.7" make it available to a wide variety of riders looking for their first motorcycle or just prefer a lightweight, nimble machine.
The YZF-R3 features top notch components like KYB front suspension, lightweight aluminum 10-spoke wheels and a newly designed compact LCD instrument panel that displays all the important data at a glance.
The YZF-R3 will be available in three color options — Team Yamaha Blue/Matte Silver, Rapid Red and Raven — and will retail for just $4,990, with bikes available in dealerships beginning in March 2015.
All-New 2015 SMAX Sport Scooter
Yamaha Motor Corporation, U.S.A. is excited to introduce the all-new 2015 SMAX Sport Scooter.
Engineered around an all-new powerful 155cc, liquid-cooled 4-stroke, SOHC fuel-injected engine that is highly fuel efficient while producing excellent acceleration and power, the SMAX is equally adept at commuting around town on city streets and jumping on the highway for longer distance riding. With an ultra reliable continuously variable transmission and a very linear power character, there is no need for a clutch or shifting gears, making riding the SMAX even easier.
An all-new frame design improves overall balance and helps deliver a sporty well handling machine, while also providing enough room for comfortable two up riding and 32-liters of underseat storage space for a full face helmet or groceries.
Available accessories provide additional storage capacity with a rear top case trunk and a center console bag.
Traction is handled by 13-inch wide high-grip front and rear tires, while front and rear disc brakes maintain constant stopping power.
The SMAX will be available in two color options — Ultramarine Blue and Matte Titan — and will retail for just $3,690, with bikes available in dealerships by November.
2015 Bolt C-Spec and Stryker and Raider Bullet Cowl editions
With the release of the original Bolt and Bolt R-Spec, Star Motorcycles attracted a new breed of riders who wanted this authentically styled modern day "performance bobber". That's about to happen again. Introducing the new Bolt C-Spec.
Epitomizing the cool "Café" style that has been popular across the globe since the 1960s, the Bolt C-Spec features café styling with original Star Motorcycles V-Twin performance. Features include clip-on handlebars, traditional fork boots, a removable passenger seat cowl and sport café paint and graphics that tie it all together.
Powered by a fuel-injected, 58-cubic-inch (950cc), air-cooled, V-Twin engine, mounted in a double-cradle frame, the Bolt C-Spec uses modern technology to create a riding experience superior to other similarly sized machines. Fuel injection and ignition timing maps have been set to deliver class-leading performance with strong low- and mid-range torque that is sure to bring a smile to every rider's face.
With authentic features like belt drive and steel fenders, the Bolt C-Spec provides the perfect platform for personalization.
Along with the Bolt C-Spec, Star Motorcycles is excited to add the Raider and Stryker Bullet Cowl editions to its already full line of Star Motorcycles. The Bullet Cowl adds additional wind protection on both models and makes for an even bolder statement.
The Bolt C-Spec will be available in two color options — Liquid Silver and Envy Green — and will retail for $8,690, with bikes available in dealerships starting in January. The Raider Bullet Cowl is available in Raven–and will retail for $15,390, with bikes available in dealerships starting in October. The Stryker Bullet Cowl is available in Camo Green–and will retail for $12,090, with bikes available in dealerships starting in October.
2015 Raptor 700R
Yamaha Motor Corp., U.S.A., today introduced the new 2015 Raptor 700R and Raptor 700 boasting increased power and suspension performance. The "king of sport ATVs" continues its reign as the best-selling big bore sport ATVs.
Yamaha, the best-selling sport ATV brand in the U.S., continues to push the limits of performance in the sport category with the 2015 Raptor 700R pulling approximately 10 percent more power this year from its fuel-injected 686cc, 4-stroke, liquid-cooled, SOHC, 4-valve, single-cylinder engine.
To reach the increased output along with improved fuel efficiency and reduced emissions, Yamaha gave the Raptor's 700-class power plant a new cylinder head, increased compression ratio (10.0:1), a new exhaust system, updated valve timing and fuel injection mapping. For 2015, Yamaha has also incorporated a D.I.D. X-ring drive chain with added durability.
Power makes the Raptor the top big bore, but it is the addition of superior handling and comfort that makes it one of the best sport ATVs of all time. Yamaha improved these aspects on the 2015 model as well with new front and rear suspension settings and new construction Maxxis 22-inch front tires providing increased comfort and superior handling. The Raptor 700 (non-R) receives many of the same performance updates for 2015 – offering superior performance at an extreme value — $500 less (MSRP).
"Yamaha, year-over-year, has committed to furthering the sport ATV market and as such has dominated by bringing new and improved models like the Raptor 700R," said Steve Nessl, Yamaha's ATV and SxS group marketing manager.
The 2015 Raptor 700R will come in a new Yamaha Blue/White color scheme with and an MSRP of $8,199 – no price increase over the 2014 models. A Special Edition model with unique black-white plastics and red painted frame plus GYTR heel guards and front grab bar will also be available for $8,799 MSRP. A standard (non-R) version Raptor 700 in Yamaha Blue/White has an MSRP of $7,699.
The new Raptors will be available this fall and are being assembled at the U.S. factory in Newnan, Georgia.
Come out to any of Pete's Cycle's three locations and check out one of these new 2015 Yamaha models. We are happy to be doing business with Yamaha and with our customers to offer the best deals in town on motorcycles, scooters, and ATVs. We hope you can come by and see what we have new to offer.
For more information or to come see these models, visit our website at http://www.Petescycle.com or call us at our Baltimore location at 410-663-8556. Our other locations include Bel Air and Saverna Park.