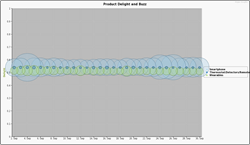 To understand the adoption of the Internet of Things, one must look toward the Internet of HumansTM
Los Gatos, CA (PRWEB) October 31, 2014
Argus Insights announces the availability of Market Specific Consumer Demand Reports in Smartphone, Wearable, and Home Automation Market Segments, focused on analyzing the Internet of Humans(TM). These new reports will provide an unprecedented view of where consumers are taking these markets, as Argus Insights organizes a wealth of consumer feedback with detailed, useful, analysis to demonstrate market trends and preferences.
These reports explain which retailers and manufacturers are favored, and delve into the specific reasons for consumer loyalty and adoption. Whether the client's goal is to track the market to predict future product adoption, determine consumer brand loyalty and purchasing habits, or discover what features are delighting and discouraging consumer interaction, these reports will aid in understanding how and why consumers are driving the market. With the most timely reporting and agile analysis in the consumer insights business, Argus Insights monthly reporting enables subscribers to stay ahead of their competition.
To understand the adoption of the Internet of Things, one must look toward the Internet of Humans(TM). We sort through the chaos that is consumer response to extract and interpret invaluable advice from the very people buying the products. Analysis is delivered at four levels of insight: Wink(TM), Glance(TM), Peek(TM), and Focus(TM).
For just a Wink(TM) of insights to remain informed between monthly reports, sign up for our Free Weekly Newsletters
Glance(TM) into the minds of consumers with this telling monthly overview of the selected market. This report includes brand and retailer rankings based on consumer reviews, providing useful insights about performance based not on sales, but on engagement. Find out who is leading the market each month, and who is being overlooked in the Smartphone, Wearable, and Home Automation Markets.
Take a closer Peek(TM) as to why consumers are adopting certain brands and products. In addition to brand and retailer rankings based on consumer reviews, this report delves into the reasons why. With a detailed look at the reasons behind consumer adoption, this report determines what brands are doing right, and where there is room for improvement. The customer is always right, and Argus Insights is here to listen and to deliver detailed, actionable insights about the Smartphone, Wearable, and Home Automation Markets.
If clients need support on a proprietary question, the FocusTM Report not only delivers the same detailed insights as the Peek Report, but also allows the client to receive tailored insights on an issue or opportunity critical to their business, delivered privately within days of the request. Available for the Smartphone, Wearable, and Home Automation Markets.
Argus Insights is a new type of market intelligence company, founded by tech industry veterans looking for better ways to connect the dots between technology innovation and consumer adoption. Argus Insights sits between traditional research firms, and Social Analytics companies, to provide focused and actionable analysis on where consumers are taking the market, who is winning and why. More than just a buzz meter, proprietary consumer demand metrics have beaten Wall Street estimates on iPhone unit sales 10 of the last 12 quarters. Global coverage of Smartphones, Wearables, Tablets, Home Automation, Internet of Things and more lets Argus Insights bridge intelligence gap between the quarterly forecasts. Real-time analytics cut through the branding buzz to expose how technology and innovation are driving consumer adoption.
Argus Insights offers this timely consumer intelligence through off the shelf reports across markets, access and support to clients' organic teams to wield an advanced suite of executive dashboards and competitive analytics tools, and support for custom engagements where clients lack time or team to drill to the core of an opportunity to disrupt their competition. Argus Insights help clients uncover answers to their toughest consumer behavior questions and discover previously unknown needs and opportunities. Argus Insights provides better evidence that supports better decisions that leads clients to better revenues.