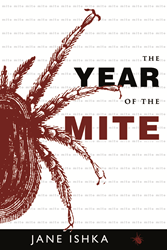 In my Hollywood, Jurassic Park would have had a lot more scratching
Pasadena, CA (PRWEB) October 31, 2014
All it took was a few baby chicks and a carpeted floor, and soon Jane Ishka, a San Francisco Bay Area homesteader, literally felt her skin crawling. She--and her house, her car, and all of her belongings--had been infested by the red poultry mite, Dermanyssus gallinae. Driven from her home and bed by the biting and itching, Jane used her scientific background to figure out what was wrong, and most importantly, how to fix it.
Told as a scientific detective story, "Year of the Mite" begins with a handful of adorable chicks moved temporarily into the family room. Jane's mother had always warned her not to touch bird's nests, and soon her arms were blotchy with bites. Borax, mite traps, diatomaceous earth... none of the usual remedies did anything. More research convinced her that, contrary to what was taught in 4-H, bird mites could infest people, and that they were terribly hard to get rid of once established. It took her a year to figure out a combination of treatments that worked, and it is this long and itchy story that she shares with readers, including the stresses on her family life brought about by the ongoing infestation and the drastic steps necessary to cure it.
An evolutionary biologist, Jane approaches her tale with humor and scientific acumen. "In my Hollywood, Jurassic Park would have had a lot more chicken-like movements. And, knowing what I know now, a lot more scratching," she says. The story is one that anyone interested in raising chickens or in unusual human diseases will enjoy. For those unlucky enough to have had a brush with D. gallinae, the book does even more, providing protocols for eliminating mites and a Frequently Asked Questions section for unwitting hosts and their friends and families.
"Year of the Mite" will be available in paperback and all electronic versions in Fall 2015. Advance review copies will be available by the end of the year on NetGalley and by direct request to the publisher.
Bitingduck Press is an independent publisher that brings all aspects of science to its readers, from technical nonfiction to thrillers. Publishing 6-8 titles per year, the press is currently accepting manuscripts for its 2016 Spring and Fall catalogs in a wide range of genres. The themes for 2015 are nonfiction and hard sci-fi for both teens and adults. Authors are encouraged to browse the catalog and submit according to the press's guidelines.