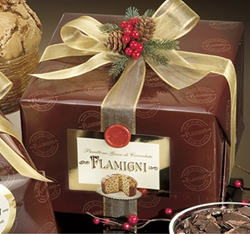 Youngstown, OH (PRWEB) October 31, 2014
Italian food specialist, Gourmet Italian, has received the annual batch of fresh panettone just in time for the Christmas 2014 season. A variety of imported panettone flavors and brands will be available at the Gourmet Italian food store the first week of November 2014 at GourmetItalian.com.
Panettone is an Italian sweetbread treat and seasonal luxury food item, prepared in September of each year and shipped to distributors in November. The dessert originated out of Milan, and is traditionally offered by the head of the family and served with amaretto, espresso, or the finest wine. A single slice is reserved each year for the following year.
While panettone is sold year round, it is prepared in Italy only once a year, distributed to retailers, and sold fresh for the holidays. New stock of the sweet treat moves quickly. Gourmet Italian offers a new batch of the imported sweetbread each year and typically sells out of their fresh panettone inventory in less than a month.
Gourmet Italian offers panettone by Flamigni, considered to be the premier brand. Additional loved and respected Italian brands include La Florentine, Mussini, Maina, Sidari, and Tre Marie. Traditionally, the bread is prepared with candied citron, orange, lemon zest, and raisins, but there are a wide variety of new flavors on the market as well. Options include:

Flamigni Panettone with Chocolate Drops
Flamigni Citron and Chocolate Panettone
Flamigni Apricot and Chocolate Panettone
Flamigni Cherry and Chocolate Panettone
Flamigni Orange and Chocolate Panettone
La Florentine Panettone (original)
Maina Chocolate Panettone with Mascarpone Filling and Chocolate Drops
Sidari Tiramisu Panettone
A brand new flavor is also available for 2014: Mussini Balsamic Glaze Panettone. Rich in flavor, this tasty option is expected to be a popular choice for the upcoming holiday season.
Panettone can be purchased on the Gourmet Italian website. Additional information on panettone is also available.
Wholesale Food Network LLC operates out of Youngstown, Ohio, and has been doing business under the "Gourmet Italian" name since January 2009. For more information on any of their products, please visit the Gourmet Italian food store website.