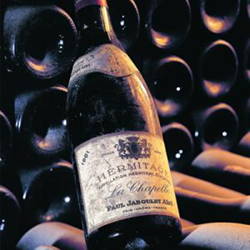 When I started writing about wine 30 years ago, there was one wine which truly enjoyed iconic status, Hermitage La Chapelle 1961. Jancis Robinson
London, United Kingdom (PRWEB UK) 2 November 2014
Quintessentially Wine is delighted to announce that it will offer a highly rare collection of La Chapelle Hermitage, from the great northern Rhône producer, Paul Jaboulet Aîné. The collection will feature all thirty two vintages of La Chapelle Hermitage created since 1952.
One of only three collections in the world, this sale represents a unique opportunity for global wine enthusiasts and investors to own an iconic collection of this most revered wine.
The collection features the 1961 vintage of La Chapelle Hermitage hailed as one of the greatest wines of the 20th century. In 2011, a six bottle collection of this outstanding wine was sold by Sotheby's for $102,850, clearly demonstrating the international appeal of this historic estate.
The wines have been sourced directly from the cellars of Paul Jaboulet Aîné, where they have resided since their creation in perfect conditions, adding to the value of the collection. The opus spans six decades dating from the 1952 vintage, and features the prized vintages of 1978 and 1990, which were both awarded 100 points by the US wine critic, Robert Parker.
The collection will be launched on the 20th November 2014 at a Quintessentially Wine dinner to be hosted by Caroline Frey, the owner and winemaker at Paul Jaboulet Aîné. The dinner will take place at Quo Vadis in London's Soho, owned and run by the Hart Brothers.
This intimate evening will offer guests the opportunity to sample three vintages of La Chapelle Hermitage, including the 1988, together with a range of wines hand selected by Caroline Frey.
ENDS
Press Contact
Stevie Evans
Quintessentially Wine
stevie(at)quintessentiallywine(dot)com
+44 (0) 845 224 9261
For details regarding the Paul Jaboulet Aîné Quintessentially Wine dinner contact:
Mary Teare at Quintessentially Wine on 0203 073 6655 or mary(at)quintessentiallywine(dot)com
http://www.quintessentiallywine.com
Notes for Editors:
Quintessentially Wine is the private members wine club within the Quintessentially Group. It hosts many wine events and is focused on luxury wine wish fulfillment, wine cellar and portfolio management, and a wine Sourcery™ service.
http://www.quintessentiallywine.com
Established in 1834, Domaine Paul Jaboulet Aîné has forged an international reputation for its northern Rhône wines, sourced from the famed terroirs of Hermitage, Crozes-Hermitage and Cornas.
In 2006 Paul Jaboulet Aîné was acquired by the Frey family, owners of Château La Lagune Haut-Médoc and most recently Château de Corton André in Burgundy.
An oenology graduate of the University of Bordeaux, Caroline Frey took the helm of Paul Jaboulet Aîné, and has driven a renaissance in quality, investing significantly in vineyards and winemaking. A passionate advocate of the environment, Caroline has converted to using biodynamic and organic methods, not only in the vineyard but throughout the property, believing this to be fundamental to the domaine's ongoing success.