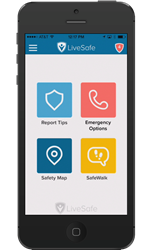 By downloading our free LiveSafe app, families can monitor their kids virtually. Kids gain a greater sense of freedom, while parents gain peace of mind
Arlington, Virginia (PRWEB) October 31, 2014
Families can download a free app to ensure they know where their trick or treaters are venturing this evening. Are they staying on the streets mom and dad approved? Are they close enough to be home at the agreed upon time?
The LiveSafe technology, used by colleges and universities in 17 states to improve campus safety, also has a timely application for families with children ready for more independence.
The LiveSafe app's SafeWalk feature has GPS-enabled location information that lets Mom and Dad watch from their kitchen table as kids make stops on streets in their area.
"We know that so many parents will grapple tonight with whether to let their older children trick or treat without a chaperone in their neighborhoods, " said Jenny Abramson CEO of LiveSafe Mobile and the mother of two. "By downloading our free LiveSafe app, families can monitor their kids virtually. Kids gain a greater sense of freedom, while parents gain peace of mind."
The app also has an icon to summon 911.
"Parents can also have peace of mind knowing that their kids can simply push a 911 button to summon help from the police," Abramson said.
Parents can download the LiveSafe app for free for the family's smartphones at the Apple App store or Android Marketplace. Select the SafeWalk feature and follow instructions.
Parents can monitor their tweens en route and chat at any time. Kids can reach 911 with one tap.
Universities like Virginia Tech are encouraging their students to use the app throughout the year – but especially on Halloween and other nights when individuals need to be more vigilant about their personal safety.
###
About LiveSafe: LiveSafe provides a comprehensive safety solution that empowers individuals to make themselves and their communities safer. Through a personal safety smartphone app linked to a cloud-based command center, LiveSafe enables increased safety by creating a new two-way channel of communication between the community and safety officials whether in schools, military installations, shopping malls, or even sporting events. For more information, visit http://www.livesafemobile.com and follow LiveSafe on Twitter at @LiveSafeApp.