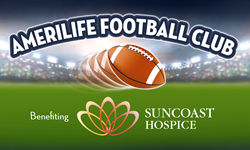 Clearwater, FL (PRWEB) October 31, 2014
With the kick-off of the college football season, AmeriLife, the nation's premier annuity, life and health insurance marketing organization, launched its AmeriLife Football Club campaign to build camaraderie amongst its employees, while also raising money to benefit Suncoast Hospice and its 2015 Beach Stroll fundraiser event.
"We're a family here at AmeriLife," explained CEO Timothy O. North. "The AmeriLife Football Club is about our employees, encouraging them to come together to celebrate their favorite college football teams, while also benefiting a great local organization."
As the college football season commenced, the company raised money to benefit Suncoast Hospice through Season Passes that allow employees to wear jeans on Fridays throughout the season, and also participate in special Club Meets. Employees voted on their favorite teams, which drive which games are featured at special events hosted by the company.
Starting with a Friday afternoon pizza party on September 9th at the company's AmeriLife Place headquarters, Club Meets have also included off-site game viewing parties at local restaurants outside of business hours. Complimentary food and non-alcoholic beverages are provided to all who participate, and the company continues to accept donations to benefit Suncoast Hospice, noting that a check will be presented to the organization at the conclusion of the season.
"In any business, it takes teamwork to be successful," said North. "It's wonderful to see our employees' competitive spirit come out through this campaign and we're thrilled to have raised over $4,490 for Suncoast Hospice so far."
About Suncoast Hospice
For almost 40 years, Suncoast Hospice has provided hospice and palliative care services in Pinellas County. They have expanded their services to meet the needs of the community, including palliative home health and physician services, independent living assistance and day care for seniors, HIV services and advance care planning.
About AmeriLife
AmeriLife is the nation's premier insurance marketing group. Founded in 1971, AmeriLife represents more than 30 national insurance carriers, has 15 individual national marketing organizations, 33 career agency branch locations and works with thousands of independent insurance agents across the country.
For additional information about AmeriLife or its community involvement, please contact AmeriLife Marketing Communications at Media(at)AmeriLife(dot)com.