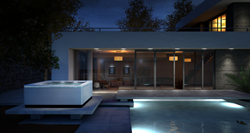 STIL represents a new concept in portable spa design.
Salt Lake City, UT (PRWEB) November 05, 2014
Bullfrog Spas is pleased to announce STIL, a new modern portable spa. Finished prototypes of the STIL hot tub were unveiled today at the opening of the International Pool | Spa | Patio Expo (Orlando, FL) in Bullfrog Spas booth, #3420.
STIL was born from a collaboration of Bullfrog Spas and European design partners. It embraces an ultramodern approach to hot tub styling and functionality. The STIL is an open-concept 6-seat spa with a mid-size footprint (7' 4" x 7') that promises to appeal to the consumer with a sophisticated modern aesthetic and desire for state-of-the-art hydrotherapy.
The contemporary design of the STIL is combined with the technology in Bullfrog's patented JetPak Therapy System. This proprietary hydro-massage system allows the spa user to customize specific spa seats with any of the modular jetted massages (JetPaks) they choose at any time.
STIL will be available to the public through Bullfrog Spas Authorized distributors in North America, Europe and Australasia beginning 2015. Press inquiries may be directed to Bullfrog Spas' personnel at the IPSPE or in writing to info(at)bullfrogspas(dot)com.
About Bullfrog Spas
Bullfrog International LC began in 1996, engineering quality portable hot tubs with patented JetPak Technology. JetPaks are modular jetted spa seats that can be interchanged at any time. Bullfrog's current ultra-efficient JetPak Therapy System is a re-engineered hi-tech version of the original JetPak concept. Bullfrog International, is headquartered in the Salt Lake City, Utah metro area and currently distributes, licenses, and retails its products in the United States, Canada, Australia, New Zealand, South America, Asia, and Europe. Bullfrog Spas and the JetPak Therapy System are protected by numerous US and international patents.
For questions on Bullfrog Spas call 801.565.8111. Bullfrog executives are available for interview.