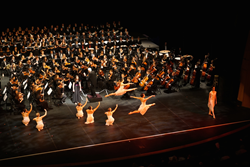 Key West, FL (PRWEB) November 01, 2014
Denver, Colo., with its strong arts ethic, outstanding performance groups and venues, and stellar arts schools, proved an inspirational and entertaining environment for the nearly 350 attendees of the Arts Schools Network 2014 National Conference last week.
The conference theme, "Career Paths in the Arts" was apt for the gathering in Colorado, a state that has invested heavily in creative industries and in arts education to grow its own work force. In the keynote presentation Ginger White Brunetti, Deputy Director, Denver Arts & Venues, addressed the theme as well as Denver's cultural plan. The theme was carried through the many educational sessions, which included discussions on preparing elementary and middle school students, interning in high school, summer programs, researching colleges, and imagining future careers.
Among the other renowned arts leaders involved in the conference was Betty Siegel, Director, The Office of VSA and Accessibility, a Jean Kennedy Smith Arts and Disability Program, Education Division, The John F. Kennedy Center for the Performing Arts, Washington, D.C., who presented "VSA, Why You Should Be Thinking About Students with Disabilities (All of the Time)." ASN members, who received renewal credits for session attendance, shared information and experiences in discussions on new core standards, best practices, college and career preparation, and many other vital topics. ASN also announced the new (2014-2016) Exemplary Schools and the recipients of the 2014 ASN Recognition Awards, which honor individuals and institutions that exemplify excellence, innovation, and leadership in arts education.
The spotlight was brightest, however, on students of ASN member schools. On Thursday, October 23, the student performance of selections from Orff's "Carmina Burana" drew a full house at the Ellie Caulkins Opera House at the Denver Center for the Performing Arts. Two thousand tickets were sold to ASN conference attendees and the general public for the collaborative performance, which featured orchestra, chorus, soloists, and dance. Approximately 300 students from Denver School of the Arts in Denver, Colo.; Duke Ellington School of the Arts in Washington, D.C., and Orange County School of the Arts in Santa Ana, Calif., were directed by Dr. Larry Livingston, Director of Orchestras, University of Southern California, Thornton School of Music in Los Angeles, Calif. The students prepared at their respective schools, and only had one day to rehearse together; soloists auditioned and were selected by Dr. Livingston after their arrival in Denver.
Earlier that evening at the student celebration gala, a jazz combo composed of students from the New Orleans Center for Creative Arts entertained attendees. Also at the Opera House, students from each of the schools participating in "Carmina Burana" presented diverse ten-minute showcases. Orange County School of the Arts featured selections from "West Side Story;" Duke Ellington School of the Arts performed "From Steel Pier, First New Dream;" and Denver School of the Arts performed "Duende," an original work including dance, cinema, spoken word, and music.
During the conference, numerous other student performances included the ASN award-winning Electric Rock Orchestra from Idaho Arts Charter School, as well as theater, dance, choir, and film showcases from host Denver School of the Arts, Creative Arts Academy at Kunsmiller, Noel Community Arts School, and more. Attendees were also treated to site visits and tours of area arts schools, as well as local galleries and performance venues, including the Denver Center for the Performing Arts.
Plans are already in progress for the 2015 ASN National Conference, "Technology and the Arts," slated for October 21-25, 2015 in Seattle, Washington.