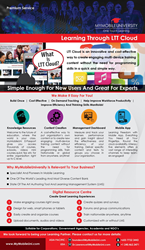 LTT CLOUD platform at MyMobileUniversity is a once-in-a-generation technology advancement, and enables our visitors to accelerate innovation in learning.Dr. Lawrence Wasserman Vice President, Strategic Alliances
Washington, D.C. USA (PRWEB) October 31, 2014
Business needs an educated workforce to compete effectively in today's competitive global economy. Today's employees require specialized knowledge and skills to adapt with fast paced changes in the workplace. The LTTCloud offers learning on the go that is crucial to individual success by providing learners with scalable, online learning solutions, said Wemel Cumavoo, co-founder and CEO, at MyMobileUniversity.
The LTT Cloud service brings world class programs for your organisation learners through its innovative multi device platform The Knowledge Resource Centre. It is a cost-effective way to put organization's own content or to create new engaging multi-device training content without the need for programming skills on this platform and comes together with a Learning Management System that keeps track of users performance, added Wemel.
Our way of working, shopping, playing and learning has all changed and moved to the digital era and everyone has little choice but to embrace and leverage it so as to remain competitive in this global arena. Today MyMobileUniversity, provides access to learn on the go, anytime or in the comfort of one's home using alternative devices, said Dr Lawrence Wasserman, Vice President, Strategic Alliances.
Today, most Organisations have been aware on the needs to upgrade their workforce skills training programs and to consider maintain their learning costs.
LTT Cloud is your answer to how organisations (public and private) are able to save and yet provide the best of trainings to their workforce. To reduce one's travel time and expenses as you are now able to learn anywhere, anytime. In the cloud platform there is no traveling required, and no need to buy books, thus no tree cutting as a result we not only make learning accessible but mobile and web learning all of which is a go-green initiative too!
MyMobileUniversity recognizes that at the end of the day, it is not just about delivery of education to communities but about delivery of the right quality of education that will help enhance and impact lives. Studies show that organizations that encourage staff to continue learning have seen a boost in employee morale. It is an excellent way to solidify employee loyalty and increase productivity. Companies who have done this have grown significantly with skills set of staff.
MyMobileUnversity has customized packages for government agencies, private sector, academia and NGOs' to meet the needs of their community and meet the challenges of globalization.
Today we offer our developed LTT Cloud Services simple enough for new users and great for experts. Get LTT Cloud for your organization now.
For more information please email to founders(at)MyMobileUni(dot)com
About LTT Global
MyMobileUniversity is a global initiative to impact lives through education by LTT Global an award winning mobile and web based learning company that has been pioneering learning on the go for the last 10 years. LTT Global has been participating, understanding, tracking, creating awareness through its various initiatives, since 2004, to encourage and support the growth of the mobile eco system. The company's vision is to enrich and empower organization from human capital development to business enterprise solutions.
LTT Global provides a broad range of consultancy services to organizations to provide a holistic, cost effective and efficient solutions using mobile technology innovation. Among its initiatives to promote awareness include the annual GoMobile and the Asia Pacific Mobile Learning Conference. It also is the founder of the Asia Pacific Mobile Learning & Edutainment Advisory Panel (APACMLEAP) and the co-founder of the Mobile Industry Group (MOBIG) which is a special interest group. (http://www.LTTCOM.com)
For More Information Please Contact:
LTT Corporate HQ
Rani Wemel,
Co-Founder/COO Corporate HQ
Email: founders(at)MyMobileUni(dot)com
Tel: +60377323443 Mobile: +60192070510
Skype: lttglobal
Dr Lawrence Wasserman,
MyMobileUni Corporate HQ
Vice President, Strategic Alliances
dr.lawrence(at)MyMobileUni(dot)com | wfuture(at)hotmail(dot)com
Tel (O): +1 301.424.1383 | Fax: +1 301.424 1383 | http://www.LTTCOM.com |Cell +1 240.462.3471 | Skype: galaxy139 |Twitter: FORTECH139|