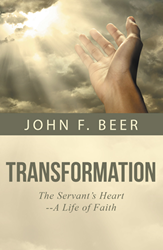 It is amazing how the subjects of anxiety, pride and hypocritical love intertwine with peace, humility and sincere love
BOISE, Idaho (PRWEB) November 04, 2014
Many are enslaved by anxiety, pride and hypocritical love and don't realize it or chose to ignore it. John Beer believes these three issues are challenges Christian's face and reasons there is a need for transformation.
"It is amazing how the subjects of anxiety, pride and hypocritical love intertwine with peace, humility and sincere love," Beer said. "It all has to do with how much one believes in God's ability."
With the current culture that encourages materialism and egotism, Beer expresses concern with how one should live in accordance with the world versus God's expectations. In Beer's new book, "Transformation," he encourages Christian's to examine their relationship with God. God is omniscient, but it is up to Christian's to seek out God's revelation of truth in each person's heart.
Beer became a Christian when he was stationed in Puerto Rico during his service in the U.S. Air Force. He has been active in his faith community ever since. With this book, Beer hopes to inspire a desire in Christians to walk in a more trusting relationship with God, believing in promises revealed in the Bible, that he can and will handle issues that challenge Christians everyday. The result should be the heart of a servant and a joyful life of faith.
"Transformation: The Servant's Heart—A Life of Faith"
By John F. Beer
ISBN: 978-1-4908-4406-0
Available in softcover, hardcover, e-book
Available on Amazon, Barnes & Noble and WestBow
About the author
John Beer retired after 22 years in the U.S. Air Force as a master sergeant. For 25 years he operated a sharpening business he started, which is now owned and operated by his son. Beer is a Twin Falls native and still lives there today. He and his wife have been married for 52 years and have three children. Beer has published articles in "Alliance Life Magazine" and "Gifts of Heritage—Pioneer Portraits."