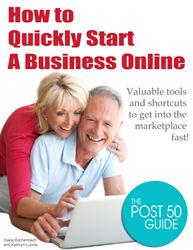 Often, this age group performs better in startups because they have acquired a lifetime of business know-how. The only thing that keeps boomers from getting serious online is their fear of needing to know how to code, which is a baseless stressor
New York, NY (PRWEB) October 31, 2014
Startup specialist Diane Eschenbach has proven that people over the age of 50 can compete with younger startup entrepreneurs. A member of the post-50-year-old crowd, Eschenbach has combined 30 years of tips for those over the age of 50 so they can save time and training when starting their own online businesses.
Diane Eschenbach has highlighted which online businesses are less difficult to start in her new book, How to Quickly Start a Business Online. As many people over the age of 50 understand, time is a sensitive issue. Employers will not often consider people of this age group for training, and many people over the age of 50 do not think there are many benefits of investing in further college education. In her new book, How to Quickly Start a Business Online, Eschenbach offers those over 50 a step-by-step approach to building an online business without having to know how to code, design, or do many of the tasks usually required by traditional methods. A plethora of options are offered and explained in simple terms so that technically advanced jargon does not get in the way of understanding. It's all written in a simple, easy to follow format that anyone can follow.
People over 50 currently have the most difficulty supplementing their income. This age group lost most of the value in their retirement accounts, and banks pay scarce returns on what this age group has left. Having their own businesses is often the perfect way that the 50+ set can gain control over their financial freedom and independence. By setting aside some time to follow their dreams, they can have the same kind of fun and success creating their own business that twenty-somethings have. "Often, this age group performs better in startups because they have acquired a lifetime of business know-how. The only thing that keeps boomers from getting serious online is their fear of needing to know how to code, which is a baseless stressor" says Eschenbach. Many people work around coding and have successful online businesses. One of Eschenbach's clients is in her 70's and manages her own website. If a person can follow the outlined steps for website success, it can be easily done.
Anyone with a hobby is in the perfect position to create an online business with it. Plus, at 50, this is a great way to build confidence by transitioning into a business expert and taking hold of the future. The alternative is putting your future into the hands of others. People also can have a job and still have their own online business - the best of both worlds.
How to Quickly Start a Business Online can be purchased on Ms. Eschenbach's website. The website currently offers a free downloadable inspirational poster entitled "10 Principles for Starting a Business Online After 50."
About the Author
Diane Eschenbach is a marketing consultant and start-up specialist. Over the past 30 years, she has advised and consulted many entrepreneurs in developing marketing plans and company infrastructures. She has worked with a diverse industry list of clients including financial companies such as Chemical Bank, and MONY, fashion companies such as AC&R, Arrow Shirt and Chanel, and luxury brand trendsetters such as Bloomingdales. In 2011, after working with the medical industry, she co-authored a peer-reviewed article about Medical Marketing. A pioneering work about the marketing of traditional botanical medicine and has received mention in such publications as the Daily News™, Newsday™ and AARP's Life Reimagined™ Stories.
Ms. Eschenbach holds a bachelors degree in Organizational Leadership with a minor in Psychology from Fordham University.
For more information visit: How to Quickly Start a Business Online or contact Ms. Eschenbach