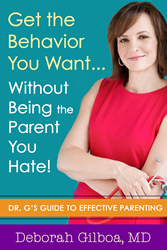 Pittsburgh, PA (PRWEB) November 03, 2014
Deborah Gilboa, M.D., aka "Doctor G," a leading parenting expert, author and family physician, says America's upcoming Midterm Elections on Tuesday, Nov. 4 are a valuable teaching opportunity that parents should not miss. She highly recommends that parents take their kids to the polls and show them the importance and responsibility of exercising one's right to vote.
"Most of us want our kids to grow up to make the world a better place. Parents can teach them 'how' this week by taking them along to vote on Election Day," says Pittsburgh-based Doctor G. "Kids really like going along on this grown-up activity where they can actually see what parents do and how. When they are old enough to vote, they too will take on this responsibility naturally, and take it seriously."
Gilboa says having children share in the voting process, like the one Americans will participate in on Tuesday, can be an even more important lesson than voting in a higher profile election. More specifically, Doctor G says it is the perfect opportunity to explain the following five important messages.
1. Voting is an important responsibility. Mayors, governors and state representatives affect our lives, often far more than Presidents. Explain why you need to vote in non-Presidential elections.
2. Voting shows kids that adults are working to make their world a better place, and are participating in a process Americans are fortunate to have.
3. When we take kids with us to vote, we teach them to respect process and rules, as well as to respect change.
4. Very few kids make it through a trip to the voting booth without asking great questions. If you do not have all the answers (and who does?), research the answers together!
5. Voting teaches kids and teens to be change-makers. Demonstrate that you believe problems have solutions, and that the voting process consists of groups of people making decisions on how to generate those solutions.
Ultimately, Doctor G says that kids need to understand that in the United States, citizens 18 years and older have the legal right to vote--a precious right not to be taken lightly. Adults in many countries around the world do not have our same freedom; this is a chance to teach our kids to respect that opportunity.
"Kids learn about voting through everyday interactions with their families and friends. Group decisions such as selecting pizza or burgers for dinner or which television show to watch are great examples of democracy at work," explains Gilboa. "However, they may not completely understand that a voting process is what runs our country and determines how leaders among nations make decisions. Taking your kids to the polls reinforces how important and valuable is our right to vote."
Doctor G recently released her latest book, "Get the Behavior You Want… Without Being the Parent You Hate! -- Dr. G's Guide to Effective Parenting," through Demos Health Publishing, LLC.
A Clinical Associate Professor at the University of Pittsburgh School of Medicine, Doctor G is a leading parenting expert, family physician, mother of four, international speaker, published author, contributing journalist, alumni of Second City and a television and radio personality, appearing on numerous talk, news, and informational programs around the country. For additional information visit her website at http://www.askdoctorg.com or connect with her at the following social media sites: Facebook, Twitter, YouTube, Google+ and her RSS Feed.