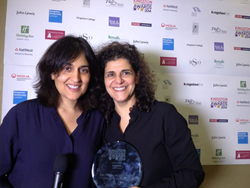 (PRWEB UK) 8 November 2014
A Kingston firm has won one of the South East region's most prestigious business awards. The film and television company Enlightenment Productions beat off tough competition to win the Best Creative & Media Sector at the Kingston Business Excellence Awards at a glittering awards dinner at the Holiday Inn, Kingston South on 23rd October.
The Kingston Business Excellence Awards, in association with NatWest Bank, is led by Kingston Chamber of Commerce, the Royal Borough of Kingston and Kingston first. They were set up to showcase the outstanding business talent throughout the Kingston borough.
Judges were impressed by Enlightenment Productions strong leadership in creativity and media.
Enlightenment Productions is dedicated to producing, distributing and selling entertaining independent feature films and television content of integrity and individuality.
Their latest feature Despite the Falling Snow is based on co-founder Shamim Sarif's acclaimed novel and written and directed by the author. The movie stars 2014 Golden Globe nominee and new Mission Impossible co-star Rebecca Ferguson and Charles Dance and is produced by co-founder Hanan Kattan.
It is second triumph for Hanan, who last year scooped "Entrepreneur of the Year" for EBS Digital, a company she set up to help small businesses achieve outstanding growth using the latest digital marketing strategies.
She said: "It is an honour to win this award, especially when we were up against tough competition from so many vibrant and impressive businesses. As a film company we have bucked the trend choosing to make our headquarters in Kingston rather than Soho. We are proud to be attracting exceptional talent, including Oscar winners, to the region to do post-production work. We hope winning this Award encourages more creative companies to do the same."
Broadcaster and radio presenter James Whale brought talent and wit to the Awards joining 200 members of the local business community, including Business Secretary, Vince Cable and Minister of Energy, Ed Davey to announce the winners and hand out prizes.
Business Secretary Vince Cable said: "My main job in the government is promoting business. I think we're winning although we've been through some very difficult years.
"There's a real recovery happening and a very positive spirit. Certainly in this part of London there are some wonderful companies, a lot of growth, a lot of entrepreneurs, a lot of start-ups and I think we've got a really good future."
The evening was closed by Jerry Irving, chief executive of Kingston Chamber of Commerce, who said: "I would like to congratulate not only the winners but all the finalists.
"This event demonstrates the enthusiasm, the commitment, the innovativeness of all our Kingston business and they should all be very proud to be here."
For more details and photography please contact:
Gaynor Pengelly
gaynorpengelly(at)hotmail(dot)com