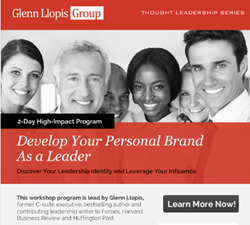 Personal Branding is a Leadership Requirement, Not a Self-Promotion Campaign -- Glenn Llopis
Irvine, CA (PRWEB) November 04, 2014
On February 26-27, 2015 Glenn Llopis Group (GLG) will be hosting its popular workshop program – Develop Your Personal Brand As Leader in Irvine, CA. Glenn Llopis, a nationally recognized thought leader, bestselling author and contributing writer to Forbes, Harvard Business Review and Huffington Post will facilitate this high-impact two-day program that teaches business leaders to develop/manage their leadership brand identity to maximize their workplace influence and overview performance.
According to Llopis, "the uncertainty of the post-2008 economy has demanded more from the workforce. All too often, leaders have been forced to sacrifice their own identities in the rush of business necessity. Leadership can no longer live in a highly-structured, overly-defined box of silos, but rather must move into an interconnected, boundary-less ecosystem of diverse minds, ideas, and ideals – where it's more about the role your personal brand plays rather than your job description alone. As such, leaders are now eager to reclaim those personal identities as the economy improves and opportunities return. In order for organizations to recruit and retain top leadership talent, they must enable them with a leadership brand identity that matters."
Based on a survey conducted by the Glenn Llopis Group (GLG), less than 15% of leaders have truly defined their personal brands and less than 5% are living them consistently at work each and every day. Through group-think situational analyses, case studies and pre-work assessments, participants will:
•Learn how and why personal branding is no longer about self-promotion, but about trusting yourself to be a more effective leader and make your voice and identity respected
•Seamlessly deliver their most genuine executive presence that represents who they are and what they stand for
•Align their leadership role and responsibilities to more authentically amplify and create greater impact and influence
•Create their personal brand leadership value proposition
•Manage their personal brand by continually refining the answers to four critical questions that serve as the foundation for their ultimate workplace success and significance
•Experience GLG's "speed branding" exercise where workshop participants obtain real-time feedback and valuable insights from their peers
Prior GLG workshop participants that have included leaders from Fortune 500 clients such as Home Depot, Coke, Catamaran, State Farm, Target, Walmart, Pepsico, and many others have described the workshop experience as "awakening, transformational, eye-opening," with a 100% approval rating.
For more information about how to attend the workshop and/or sponsorship opportunities for your corporation, please contact Vice President of Client Relations, Annette Prieto-Llopis at aprieto(at)glennllopisgroup(dot)com or at 949-387-2609.