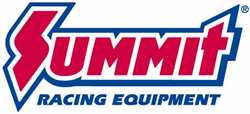 Tallmadge, OH (PRWEB) November 24, 2014
Parts packages designed to squeeze the most muscle from small and big block Chrysler V8s. Summit Racing has already done the part-matching homework and assembled Pro Packs and Combos that have been vetted and tested to deliver significant power gains over the stock setup.
A Summit Racing Mopar Intake Manifold Pro Pack was featured on Episode 22 of PowerNation TV's Engine Power. Watch the full episode here.
The Summit Racing Intake Manifold and Installation Pro Pack for small block Mopar is perfect for enthusiasts that already have a carburetor. At the heart of the Pro Pack is a Weiand Action+Plus Dual Plane Intake Manifold with a very street-friendly idle to 6,000 RPM powerband. The Pro Pack also includes Fel-Pro gaskets, Mr. Gasket hardware, and Loctite Blue Silicone Gasket Maker.
For those that want a dual-carburetor setup on your Mopar big block RB, Summit Racing offers two Intake Manifold, Carburetor, and Air Cleaner Pro Packs. They're an excellent choice for creating power in the 1,500 to 6,500 RPM powerband. The kits feature an Edelbrock CH-28 dual quad intake; a pair of 600 cfm Edelbrock Performer carburetors; an Elite Series air cleaner; and ARP fasteners, Fel-Pro gaskets, throttle linkage, manifold gaskets, and a dual-quad fuel line kit.
Summit Racing also offers Street Performance and Hot Street Intake, Carburetor, and Cam Combos, plus Tunnel Ram and Carb Pro Packs for small and big block Mopar.
SEE ALL OF SUMMIT RACING'S INTAKE COMBOS FOR CHRYSLER V8
Summit Racing Equipment
http://www.SummitRacing.com
1-800-230-3030