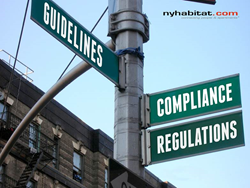 The Op Ed can be read in its entirety in the New York Real Estate Journal.
New York, NY (PRWEB) November 04, 2014
Rick Lassin, Esq., legal counsel for the real estate brokerage firm New York Habitat, has penned an Op Ed on the sharing economy about short term apartment rentals. The article focuses on the sharing economy from the unique perspective of a New York real estate broker specializing in short term furnished apartment rentals.
As an alternative to Airbnb and similar peer-to-peer online rental platforms, Lassin highlights the benefits of using a licensed broker to navigate the complex regulatory framework of New York City real estate to rent an apartment. Unlike peer-to-peer online rental platforms, brokers have an obligation toward their clients to conduct due diligence on properties prior to proposing them for rental. Brokers can also offer additional services and assistance to clients, such as the ability to relocate a client if they are unsatisfied with the rental.
The Op Ed also discusses the risks associated with business models of short term online rental platforms such as Airbnb. Lassin raises significant concerns regarding the legitimacy and accountability of such business models in the sharing economy as well as the practical and legal risks faced by hosts and their guests during vacation rentals. While these platforms actively recruit new hosts and guests, they do not properly disclose the risks or responsibilities of the parties involved, nor do they take responsibility for the content of their listings.
Unfortunately, the consequences of ignoring the law and building policy can be severe. If an apartment on one of these platforms is in violation of the law or if a prime tenant violates the lease or building policy, the host (and their guests) could face eviction. Other tenants in the building as well as the landlord are also potentially affected by unauthorized transient occupancy.
Lassin notes the importance of the sharing economy and the new wave of technology that goes along with it. While consumers should embrace the sharing concept, they must also be wary of potential abuses that may result. Real estate professionals and government officials must work together to preserve the reputation of the industry by identifying and promoting legal short term apartment rental activity in New York City. By encouraging all business models to comply with the law, we can continue to reap the benefits of the sharing economy while reducing potential manipulation.
The Op Ed can be read in its entirety in the New York Real Estate Journal.
To find out more information or explore this topic further, please contact Rick Lassin, legal counsel for New York Habitat, at rick(at)nyhabitat(dot)com or by phone at (646) 619 – 9590. To speak with the company's CEO and corporate broker, Marie Reine Jezequel, please email marie(at)nyhabitat(dot)com or call (212) 255 – 8018 (ext. 104).
About New York Habitat
Founded in 1989 by Marie-Reine Jezequel, New York Habitat is a Manhattan-based real estate brokerage specializing in short term rentals. They also have offices in Paris, London and South of France. They have been named the Best Sublet Service in New York by New York Magazine and the Best Emergency Short Term Housing by New York Press. Their website is http://www.nyhabitat.com.