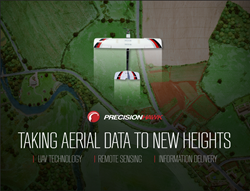 Intel Capital understands, as we do, that the UAV platform is not the product. Our product is information delivery.
Raleigh, NC (PRWEB) November 04, 2014
PrecisionHawk, which uses a small, lightweight UAV [Unmanned Aerial Vehicle] and cloud-based software to collect, process and analyze aerial data, today announced that Intel Capital has joined its previously announced Series B funding round of $10 million. The new investor announced its participation at the Intel Capital Global Summit, which brings together more than 1,000 founders and CEOs from Intel Capital's portfolio, Fortune 1000 business executives and industry leaders from around the world.
"Drones hold the promise of revolutionizing many industries, some new and some very old, like farming," said Jerry Bautista, vice president and general manager of Intel's New Business Initiatives. "We are pleased to be working with PrecisionHawk, whose unique approach of combining versatile remote-sensing devices with powerful data analytics fits well with Intel's strengths in hardware and software for the Internet of Things."
Tammi Smorynski led the investment round for Intel Capital and will serve as an advisor to the PrecisionHawk board.
The funding was originally announced in September with New York City-based investor Millennium Technology Value Partners; Bob Young, co-founder of RedHat and founder and CEO of Lulu.com; and the Innovate Indiana Fund, an Indiana University-affiliated venture company. Intel Capital's participation provides an extensive wealth of technological resources that will enhance PrecisionHawk's product development and engineering to meet the technology needs of a growing global clientele.
"Intel Capital understands, as we do, that the UAV platform is not the product. Our product is information delivery," said Christopher Dean, PrecisionHawk CEO. "The expertise that this group will bring in maneuvering the highly-competitive global market combined with our information-first model and data-driven approach will be invaluable as we continue to service an increasingly large, and growing, market sector."
PrecisionHawk is currently providing aerial data solutions to enterprise-level customers across a wide variety of industries, from agriculture, energy, forestry, and government to environmental protection. In the time since the funding was announced, the company has launched its data management and analysis tool, Data Mapper, to automatically interpret data coming off the UAV; it plans to release a new model of its fixed wing UAV, the Lancaster Mark IV, in the first quarter of 2015.
To read the original Series B announcement, please visit PrecisionHawk.com.
ABOUT INTEL CAPITAL
Intel Capital, Intel's global investment organization, makes equity investments in innovative technology start-ups and companies worldwide. Intel Capital invests in a broad range of companies offering hardware, software, and services targeting enterprise, mobility, consumer Internet, digital media and semiconductor manufacturing. Since 1991, Intel Capital has invested more than US$11 billion in over 1,400 companies in 57 countries. In that timeframe, 209 portfolio companies have gone public on various exchanges around the world and 363 were acquired or participated in a merger. In 2013, Intel Capital invested US$333 million in 146 investments, with approximately 49 percent of funds invested outside North America. For more information on Intel Capital and its differentiated advantages, visit http://www.intelcapital.com or follow @Intelcapital.
ABOUT PRECISIONHAWK
Precision Hawk is an unmanned aerial systems and remote sensing company founded in 2010. The company provides an end-to-end solution for aerial data gathering, processing and analysis to provide actionable information to clients across a wide range of civilian industries. The company operates a small, fixed wing UAV and suite of 15 plug and play sensors for data gathering. The team is comprised of professionals with backgrounds in remote sensing, unmanned aircraft operations, software development, data processing and GIS systems development. The company operates out of offices in Indianapolis, Ind., Raleigh, N.C. and Toronto, Ont.. For more information, visit PrecisionHawk.com or follow @PrecisionHawk.