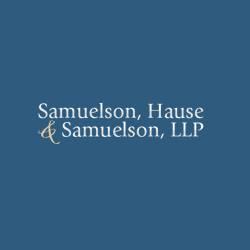 Garden City, NY (PRWEB) November 03, 2014
Samuelson, Hause & Samuelson, LLP is proud to announce their inclusion on the list of Best Law Firms. The firm is honored to have received a Tier 1 ranking in the 2015 Edition of U.S. News – Best Lawyers "Best Law Firms."
The U.S. News – Best Lawyers "Best Law Firms" rankings are based on a thorough evaluation process that includes client and attorney evaluations, peer reviews from leading attorneys within the same field, and a review of information provided by law firms during the formal submission process.
As a part of the evaluation process, clients are asked to provide feedback on their experience with the law firm, addressing the firm's expertise, responsiveness, cost-effectiveness, and civility. Clients were also asked whether or not they would refer others to the firms.
Peers also voted on the firm's responsiveness, integrity, expertise, cost-effectiveness, whether they would refer a matter to the firm and lastly, whether they considered the firm to be a worthy competitor. This group of peers was asked to vote on law firms that have a preeminent national presence within a specified area of legal practice, of which they knew well.
Samuelson, Hause & Samuelson, LLP practices divorce and family law in Long Island. The firm's attorneys have more than 100 years of collective experience in matrimonial law and have earned numerous awards and distinctions, including an AV® rating from Martindale-Hubbell®, selection for inclusion in New York's Super Lawyers®, and inclusion in The Best Lawyers in America.
Samuelson, Hause & Samuelson, LLP is accredited by the Better Business Bureau, and both Elliot Samuelson and Wendy Samuelson have been included in Ten Leaders in Matrimonial Law. Elliot Samuelson has published over 100 professional articles on the topic of divorce law, and he has been a frequent guest on radio and television programs, including Larry King Live. To meet with a member of their legal team regarding a divorce or family law matter, please call (516) 584-4685 or visit the firm's website online at http://www.samuelsonhause.net.