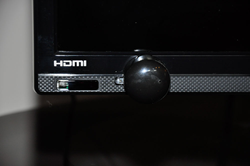 We believe we have created a product that is going to revolutionize how we interact with our audio-visual environment,
Springfield, Illinois (PRWEB) November 04, 2014
Local high-tech startup company SmashToast, Inc publicly unveiled their first product on November 3rd, a combined hardware & software application that promises to replace traditional remote controls with smartphones that run on iOS or Android. Called "Puck", it is being launched via Indigogo in an attempt to build both a large network of beta testers and funding so that product can be fully vetted prior to the official launch to the general public in January.
SmashToast CEO Barnabas Helmy described the "Puck", saying "It's is a small, self powered device that converts audio-visual equipment controlled by infrared signal to one that operates via Bluetooth Low Emission. By doing this, we can control all of our components with a smartphone application."
Helmy added, "One great benefit of converting all of our old devices to Bluetooth LE is that sight-lines are no longer an issue. You hide your components and wires behind cabinets and still have full control."
"Puck" is also controlled by software that relies on highly sophisticated algorithms to learn the habits of the individual user — allowing for the suggestion and creation of one-button solutions to navigate to favorite programs, switch components, or access web-based streaming services.
"This is a learning remote that will evolve with the user," said SmashToast CTO Andrew Brown. "We hope to be able to add even more intuitive functions, such as automatic setup, based on the feedback we get from our Beta testers."
The Indigogo campaign currently aims to identify at least 2,000 beta-users, and raise a modest sum of $50,000. However, the owners of the company would love to shatter expectations.
"We believe we have created a product that is going to revolutionize how we interact with our audio-visual environment," said Helmy. "The "Puck" is finally the solution that will allow you to, once and for all, get rid of all of your remotes."