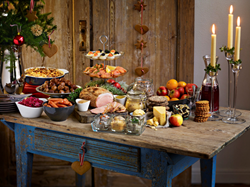 "The Julbord is a unique way to ring in the season, and gives customers a well-deserved break from the holiday hustle and bustle!" - Donna Fitzgerald, Food Commercial Manager
Conshohocken, Pa. (PRWEB) November 04, 2014
IKEA invites the public to join in the fun at the Swedish Julbord – a festive all-you-can-eat holiday smorgasbord that will be hosted in the restaurants of all IKEA U.S. stores on Friday, December 12. In Sweden, Julbord is a classic holiday dinner, consisting of several courses of traditional Swedish food, eaten among family and friends. Everyone is welcome to feast on traditional Swedish foods such as holiday ham, smoked salmon, Swedish style meatballs with lingonberries, and much more. Tickets are available for only $14.99 per person or $4.99 for kids 12 and under (IKEA FAMILY members eat for $11.99 per person or $2.99 for kids 12 and under).
"At IKEA, we take pride in our Swedish roots, and there's no better time than the holidays to share our heritage with our customers," said Donna Fitzgerald, IKEA Food Commercial Manager. "The Julbord is a unique way to ring in the season, and gives customers a well-deserved break from the holiday hustle and bustle!"
The IKEA Julbord party menu includes**:

Assorted varieties of herring
Gravad lax with mustard sauce
Poached salmon
Najad smoked salmon w/horseradish sauce
Swedish cucumber salad
Swedish potato salad
Christmas ham
Prinskorv sausages
Meatballs with lingonberries
Boiled potatoes with dill
Red cabbage
Mashed potatoes
Assorted cheeses
Crispbread, thin bread, dinner rolls
Swedish rice pudding with almonds
Assorted desserts
Jansson temptations
Glögg with raisin almond mix
Coffee, tea, fountain beverage
Tickets are available for purchase at IKEA stores. Seating is limited, so those who are interested are encouraged to purchase tickets early at their local store. To locate and contact the nearest IKEA store for more details and seating times, please visit: IKEA-USA.com.
If you can't make it to your local store to celebrate on December 12, you can still bring Swedish holiday traditions home way by making your own ginger thins with products from IKEA!
GINGER THINS
Ingredients:

550 g (19.4 oz) PEPPARKAKA DEG gingerbread dough
VINTERKUL pastry cutter (set of 6)
Directions:

Knead the dough smoothly.
Roll the dough ⅛ inch thick and cut figures with pastry cutters. Cut out the figures you want the cookies to have – hearts, stars and Christmas trees are popular in Sweden!
Bake on a baking tray with parchment paper for 6–7 minutes.
*IKEA FAMILY membership perks include special discounts, gift card giveaway entries with each purchase, free coffee and tea in the IKEA Restaurant and more. Consumers can sign up for the IKEA FAMILY rewards program online or in-store. Visit http://www.IKEA-USA.com for more details.
**Menu is subject to change due to product availability.
About IKEA
Since its 1943 founding in Sweden, IKEA has offered home furnishings of good design and function at low prices so the majority of people can afford them. There are currently more than 360 IKEA stores in 46 countries, including 40 in the U.S. IKEA incorporates sustainability into day-to-day business and supports initiatives that benefit children and the environment. For more information see IKEA-USA.com, @IKEAUSANews, @IKEAUSA or IKEAUSA on Facebook, YouTube, Instagram and Pinterest.
###