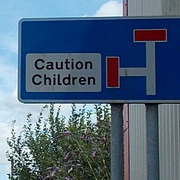 Graphics and simplified language on custom labels can help convey dangers to children more effectively than conventional fine print.
Denver, CO (PRWEB) November 04, 2014
Most products feature usage instructions and safety hazards on their custom labels, helping customers ensure they do not misuse products and accidentally injure themselves. However, children may not think twice about how they use goods, which can result in some hazardous scenarios. Lightning Labels, a custom label and sticker printing company, can help brands bolster safety awareness through better and more transparent labels.
There is no better time to reconsider whether product labels do a better job of conveying proper usage instructions, with Child Safety Protection month coming up in November. Child injuries are unfortunately incredibly common. According to Electrical Safety Foundation International, household injuries and accidents affect thousands of American children each and every year.
For instance, nearly one in four children suffer from heat-related burns. Additionally, nine in every 10 poison exposures in children occurs within the household. While not all of these accidents may be preventable through better communication of dangers through product labels, every bit can help.
"Most labels are designed with adults in mind, giving them very specific instructions about potential dangers and how to use the item to achieve optimal results," said Scott Proctor, Vice President of Sales at Lightning Labels. "However, when it comes to children, it is a whole new ball game. Graphics and simplified language can help convey dangers to children more effectively than conventional fine print."
Safety Labels and Stickers for Children
Whether brands are designing products for children or simply want to do a better job of communicating dangers to kids, safety labels and stickers are the first place to start.
When it comes to alerting children of the potential dangers of a product, graphics and images are the best way of doing so. For example, on an item that is potentially toxic or poisonous, a skull and cross bones may scare children away from using them. Or for a product that may be hot, a picture of a hand combined with a giant X crossing it out that indicates people should not touch it. Both of these graphics communicate potential dangers to children non-verbally, which may convince them to think twice before using these items.
Product manufacturers should also be sure to include child-specific usage instructions. This would probably most relevant for pharmaceutical goods, supplement manufacturers and other similar product categories that may require a smaller dosage or additional consideration for children. This will help parents and caregivers ensure they do not accidentally endanger their children when using particular products.
Labels and Stickers Printed for Any Product
Regardless of whether brands manufacture toys, toothpaste or anything in between, it is critical they remember to include warnings and instructions for children on labels and stickers. By working with a label and sticker printing company such as Lightning Labels, manufacturers can create labels for any type of product packaging that will not fall off or otherwise become unreadable.
About Lightning Labels:
Lightning Labels uses state-of-the-art printing technology to provide affordable, full-color custom labels and custom stickers of all shapes and sizes. From small orders for individuals, to the bulk needs of big businesses, Lightning Labels is equipped to handle and fulfill custom label and sticker projects of all types. Best of all, like the name implies, Lightning Labels provides a quick turnaround for every customers' labeling needs. Uses for Lightning Labels' custom product labels and custom stickers include food packaging and organic food labels, wine and beverage labels, bath and body labels, and nutraceutical products, such as vitamins, essentials oils, and herbal remedies, as well as event stickers, adhesive window stickers and more. Lightning Labels strongly supports the development of environmentally friendly printing materials and carries EarthFirst PLA, a new kind of green label material made from corn instead of petroleum. While operating as a high-tech printer, Lighting Labels prides itself on its personalized customer service. Lightning Labels provides one stop shopping for all of your custom label needs. For more information and to place orders online, visit LightningLabels.com. For the latest in packaging news and labeling promotional offers, find Lightning Labels on Twitter (@LightningLabels), Facebook, Pinterest, Google and LinkedIn.