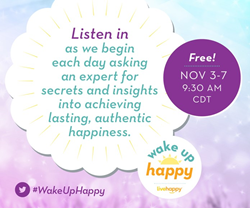 "We're leading a global movement to make the world a happier place."
Dallas, TX (PRWEB) November 04, 2014
Live Happy is announcing "Wake Up Happy," a weeklong series of free calls designed to help you achieve and maintain lasting, authentic happiness.
Live Happy is the only national magazine that is serving its audience with fresh content via a teleconference conversation series.
Listeners can tune in every morning at 9:30 am CDT November 3-7, and experience the wisdom of best-selling authors and experts in the fields of happiness, business and positive psychology.
"We're leading a global movement to make the world a happier place," says Kym Yancey, co-founder and CEO of Live Happy. "Many people need more than a hot cup of coffee to get percolating. That's why each morning we're brewing up fresh ideas with help from some of the leading experts. We want you brimming with ideas on how to increase your happiness."
The line-up includes:
Monday, Nov. 3rd – The Secret to Self-love and Happiness with best-selling author Debbie Gisonni.
Tuesday, Nov. 4th – Tips on Flourishing With Confidence from Louisa Jewell, the founder and president of the Canadian Positive Psychology Association.
Wednesday, Nov. 5th – How to Take Control of Your Happiness with William "Bubba" Paris, a three-time Super Bowl champion.
Thursday, Nov. 6th – Enabling Positive Evolution with Louis Alloro, a nationally renowned change-agent and one of the first 100 people in the world to earn a Master of Applied Positive Psychology.
Friday, Nov. 7th – Forgiveness & Happiness with Dr. Fred Luskin, the Director of the Stanford Forgiveness Projects, an ongoing series of workshops and research projects that focus on the effectiveness of forgiveness.
Click here to reserve your free spot.
About Live Happy LLC
Live Happy LLC is dedicated to promoting and sharing authentic happiness through education, integrity, gratitude and community awareness. Headquartered in Dallas, Texas, its mission is to impact the world by bringing the happiness movement to a personal level and inspiring people to engage in living positive, healthy, meaningful lives. For more information, please visit livehappy.com.
Media Inquiries:
Britney Chan
Live Happy
Office: 972.810.6637
bchan(at)livehappy(dot)com
http://www.livehappy.com