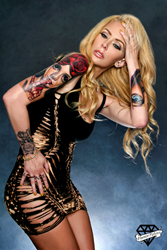 LAS VEGAS, Nev. (PRWEB) November 04, 2014
The MMA After Dark special event is gearing up to rock Las Vegas at one of the most popular car shows in the U.S., Las Vegas SEMA Show, with a live Pay-Per-View event that packs all the action of the Mixed Martial Arts world. The live PPV will include interviews with MMA fighters, a sexy pole competition, live action from the after party, inside the locker room, and more.
MMA After Dark will also give a glimpse into one of the hottest upcoming reality television series, "Stripper to Striker." Attendees will be able to see the announcement of cast members who will join the upcoming series.
The special event will be held on closing day of the SEMA Las Vegas event at LVCS, one of the most exciting live music venues in Las Vegas at 425 Freemont Street, Las Vegas, Nevada. Those who cannot attend the event in person can stream the event live for a small fee on a compatible television, computer, or streaming device.
The live celebrity party will be hosted by reality TV stars who will walk the red carpet and feature a guest appearance by celebrity Jenna Jameson, music artist Curtis Young, reality TV stars Jennavecia Russo and Melissa "Lyric" Greene formerly of Oxygen's wildly popular Bad Girls Club, as well as Michelle Minks (Miss Playboy Social).
S2S, an event partner, will also present the final six participants of the Kick Azz Model web search and casting as it searches for six models to become Brand Ambassadors – beautiful women who embody the strength and confidence that represent what the Kick Azz brand is all about. One model will be crowned Ms. Kick Azz International and receive a scripted role on the upcoming reality TV series "Stripper to Striker."
To watch a promotional video of the upcoming event, visit http://youtu.be/1xEA7T9o1gQ. For more information about the event, including VIP accommodation, please call (702) 675-1122. For more information about the live Pay-Per-View event, visit http://kickazz.tv/mma-ppv.php .
For tickets to the live MMA After Dark event, visit http://www.eventbrite.com/.
Media partners for the MMA After Dark event includes lvrocks.com, Powerhouse Radio, Indie Evolution, and SEQ Marketing. Sponsors for the event include KYSS and Kickazz (http://www.kickazz.tv).
MMA After Dark is not affiliated or associated with the annual Las Vegas SEMA.
For Media Inquiries, please email for more information mmakickazz(at)gmail(dot)com.