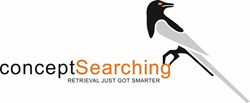 Expert speakers will explore the subject of text analytics from both a data cleansing and content identification perspective, and will include best practices.
McLean, VA, US and Stevenage, UK (PRWEB) November 04, 2014
Concept Searching, currently the only vendor providing natively integrated enterprise-wide information metadata driven governance solutions for SharePoint on-premise, Office 365, and OneDrive for Business, is pleased to announce registration is now open for the 'Text Analytics in SharePoint or Office 365' webinar, to be held on Tuesday, November 18th, 11:30am-12:30pm EST.
The guest speaker is Joe Hilger, Principal of Enterprise Knowledge, LLC. Mr. Hilger has over 20 years of consulting experience, and for the past 12 years his focus has been implementing enterprise-scale content, search and data analytics solutions that have successfully delivered significant value for his clients. Mr. Hilger has worked with a wide variety of public and commercial clients to design and develop innovative and cost-effective solutions, enhancing competitiveness, increasing revenues, and improving customer service.
The webinar will discuss the challenges, faced by many organizations, of successfully using text analytics and gaining knowledge based on patterns in unstructured and semi-structured data assets. Expert speakers will explore the subject of text analytics from both a data cleansing and content identification perspective, and will include best practices.
What attendees will take away:

Explore why text analytics – or analysis of unstructured and semi-structured content – does not fit the definition of big data and why a different approach is needed
Understand the challenges of text analytics, and why these make it hard to achieve success
The steps that need to be taken to reduce the effort, time, and storage required for text analytics
Using Concept Searching technologies, see how data can identify specific concepts and descriptors, and also cleanse data to eliminate obsolete content
Ensure compliance during the text analytics process, through automatic declaration of records that have never been declared, as well as identification of confidential or private information that should be excluded from the text analytics process
See why a 360 degree view of content from diverse applications and repositories, including blogs, wikis, and Twitter, can deliver more accurate and finite results
Learn why, and see how, a text analytics approach can be rapidly implemented and changed to accommodate new or different parameters
Hear real-life client case studies from Enterprise Knowledge and Concept Searching
Who should attend: Business Process Owners from Sales, Marketing, Customer Services, and IT Professionals involved in executing text analytics projects
To see a detailed webinar agenda, click here. To register for the webinar, click here. Interested attendees are requested to register early. Those unable to attend can still register and will receive links to the recorded webinar and the presentation.
Follow Concept Searching: http://www.twitter.com/conceptsearch
About Enterprise Knowledge
Enterprise Knowledge, LLC is a consulting firm that helps organizations better capture, manage, present, and leverage their information. It operates globally, throughout the public and private sectors to help organizations get the most out of their people and their information. Through knowledge management, taxonomy design, project management consulting, and application development, Enterprise Knowledge is focused on providing practical solutions with the goal of ensuring an organization's information can be found, used, and reused, providing the greatest returns and satisfaction for its customers and employees.
About Concept Searching
Concept Searching is the industry leader specializing in semantic metadata generation, auto-classification, and taxonomy management. Platform agnostic, Concept Searching also has a Microsoft Gold Application Development competency, and offers a complete suite of SharePoint and Office 365 solutions. The award winning technologies integrated with Concept Searching's Smart Content Framework™ encompass the entire portfolio of unstructured information assets in on-premise, cloud, or hybrid environments. Clients have deployed the intelligent metadata enabled solutions to improve search, records management, identification and protection of privacy data, migration, text analytics, eDiscovery, and enterprise social networking applications.
Concept Searching is headquartered in the US, with offices in the UK, Canada, and South Africa. For more information about Concept Searching's solutions and technologies visit http://www.conceptsearching.com and follow on LinkedIn.
All product and company names herein may be trademarks of their respective owners.