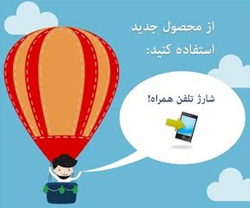 Easy to use and connection is very good and clear. Ammousavinasab, TamasbaVatan.com customer
Atlanta, Georgia (PRWEB) November 05, 2014
Iranians living abroad may now show their loved ones back home that they miss them in a new way: by sending a top up to their mobiles, with TamasbaVatan.com. Starting this November, TamasbaVatan.com offers a new service to its customers: Mobile Recharge. Top ups make great presents, so Iranian customers may offer free calls, texts or data to their friends and family back home, as a gift.
The mobile recharge service offered by TamasbaVatan.com is available for anyone who wants to top up a mobile phone in Iran or anywhere else in the world. All customers have to do is create an account on TamasbaVatan.com, access the Mobile Recharge section and follow three easy steps:

choose the operator
enter the phone number
send the amount
In addition to Mobile Recharge, TamasbaVatan.com also offers the Voice Credit service, that works as a prepaid phone card offering all the benefits an online service provides: transparency, online account with user-friendly features, and 24/7 Customer Support. The service is intuitive and easy to use.
Calls may be placed:

from any landline, mobile or even payphone in the world, through local or toll free access numbers;
using the app called KeepCalling, which is not chargeable. The iOS and Android applications may be used to call without having to dial any access number, and even any phone number at all. Once logged in the app, customers can use their phone Contacts list to call;
from any PC with an Internet connection, through the Web Call app available in customers' accounts.
The customers may also activate the free features that make calling simple and intuitive: PINless dialing (once activated, entering the PIN is no longer necessary), and Speed Dial (by assigning phone keys to the numbers called frequently, dialing is reduced to pressing just one phone key).
In addition to user friendly services and attractive offers, TamasbaVatan.com focuses on online safety. This is why there are several security filters, protecting customers from possible frauds and making all transactions 100% safe. All major payment methods are accepted: Visa, MasterCard, American Express, Discover and PayPal.
TamasbaVatan.com is available both in English and Persian, so customers may navigate using the language that is more familiar. Within the same purpose of finding easily the information needed, the website also offers 24/7 Customer Support, that may be contacted by email or phone.
The safe transactions and easy-to-use products make TamasbaVatan.com a reliable partner in keeping a close relationship with friends and family, no matter the country they live in.
The customer-focused approach is acknowledged by customers: "Clear voice, no disconnection, easy call and fair price. I love it" (jamal_alikhani, TamasbaVatan.com customer), "Easy to use and connection is very good and clear" (ammousavinasab, TamasbaVatan.com customer).
About TamasbaVatan.com
TamasbaVatan.com is a website designed by KeepCalling, a global telecommunications company registered in 2002 in USA. Presently, KeepCalling provides its services to hundreds of thousands of consumers and businesses, with a focus on customer satisfaction. In 2014, Inc. 5000 listed KeepCalling as the 18th fastest growing company in the telecommunications industry in USA.