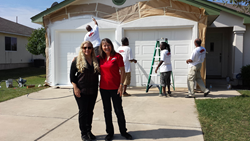 Painting this home for Cindy has been an incredible experience. It feels great to be able to give back to someone who served our country, who is a Blue Star Mother and who does so much for the veteran community. - Karen Wagner
Leander, TX (PRWEB) November 04, 2014
When you're a giver like Cindy McNally, it can be hard to accept gifts from others. So when Fresh Coat Painters offered to paint her entire house for free as part of their Paint it Forward project, turning over the reins was a bit of a challenge.
"I was humbled by the offer and the whole process has been an exercise in humility. Veterans are givers by nature, even willing to give their lives. Allowing others to be a blessing to me has been huge," McNally said. "But truly, with everything I'm involved in, there's no way I would have the time to do all this work on my own and I don't have the time to work to earn the money to pay someone else to do it. This has given me the opportunity to improve my home while working to help others."
The interior and exterior of McNally's home was part of Fresh Coat Painters' national Paint it Forward project. The painting was led locally by local North Austin Fresh Coat Painters franchise owner Karen Wagner. Sherwin Williams, Fresh Coat Painters' national paint partner, donated the paint for the project.
"Of the submissions to receive the whole house painting, Cindy was selected as the winner and she definitely deserves it. Cindy is extremely giving and passionate about what she does and this is our opportunity to give back and say thank you," Wagner said.
"Painting this home for Cindy has been an incredible experience. It feels great to be able to give back to someone who served our country, who is a Blue Star Mother and who does so much for the veteran community. I hope to stay in touch and get more involved with her efforts in the future," she added.
Fresh Coat Painters is a leading residential and commercial painting company with a focus on customer service and professionalism. The company offers professional residential and commercial painting services including interior and exterior painting, wood staining and refinishing, wallpaper removal and many other services for nearly every protective coating application. They use quality, environmentally safe materials and offer a live 24/7 customer service center, online scheduling and free detailed quotes. All Fresh Coat employees are insured, trained and background checked.
Wagner opened Fresh Coat Painters North Austin in the spring of 2012 after 18 years at Dell. The local business serves Cedar Park, Leander, Round Rock, North Austin and the surrounding communities.
"When my sons graduated high school, it was time for a career change. I wanted to open my own business and I was impressed – and continue to be impressed – with the Fresh Coat Painters franchise. The last two years have been great and this community is a wonderful one to be part of. I absolutely enjoy meeting with clients and getting to know the people who live in the area as well as getting to know the area itself more fully. It's all just very rewarding," Wagner said.
Sherwin Williams was thrilled to be involved with the project.
"Sherwin-Williams has a commitment in making a positive difference in communities across America," shared Jeff Winter, Director of Marketing, Residential Repaint. "Fresh Coat's Paint It Forward program provides a great opportunity to recognize deserving individuals and organizations and we are happy to take part in the program."
McNally, who served in the US Army and the National Guard, was married to the late Rand McNally, who served in the Navy. Her daughter Stephanie, son Josh and two son-in-laws Neal and Thomas also are in the military with more than 10 combined deployments and her nephew, Kevin, was injured in Afghanistan in 2011.
She's a founding member and past president of WilCo Blue Star Mothers, an organization with the mission to support each other as military parents, educate the community about the sacrifices our military makes and to bring attention to the fact that we are still at war and sustaining casualties. WilCo Blue Star Mothers are the first responders to the mothers/families of those Killed in Action and they participate in a wide variety of local festivals and parades, speaking engagements and other support activities, including sending hundreds of care packages and cards to military personnel serving overseas.
Additionally, McNally is a member and past board member of Sertoma of Round Rock, where she helps raise money for Dell Children's Hospital, Ronald McDonald House, Blue and Brown Santa, Round Rock Serving Center and a number of other charities. She's also a member of the Robert G. Livingston chapter of The Daughters of the American Revolution and the chair the committee serving sexually traumatized female veterans (WTRC) at the VA Hospital in Temple, Texas. As a licensed massage therapist, McNally volunteers her time at the Fisher House and military sporting events at Fort Hood. She just received her certification for PTSD Massage and Rehab, which allows her to help veterans with the ability to cope with anxiety and other stress related issues associated with PTSD.
"I think everyone wants to help, but they don't know what the needs are or where to start. I'm a veteran, my father was a veteran and my kids have been deployed a total of 12 times, so I'm uniquely qualified to understand what needs to be done and where I can step in to help," McNally said.
"The entire painting process has been a real joy – the Fresh Coat team is wonderful and the painters have been delightful and fun. I pretty much gave them artistic freedom on what to do and it's turned out just beautifully. I'm just thrilled. I would recommend them to anyone," she added.
Fresh Coat was founded in 2004 and is part of United Growth Brands. In the last year, Fresh Coat has been included in Bond's Top 100 and named to USA Today's "Top 50 Franchises for Veterans" and Entrepreneur Magazine's Franchise 500 list. Fresh Coat also is part of the International Franchise Association, the Small Business Association's Franchise Registry, VetFran and Minority Fran.
About Fresh Coat Painters
With more than 100 locations nationwide, Fresh Coat Painters brings quality customer service, top-notch painting products, professionalism and affordable pricing to the residential and commercial painting industry. They use quality, environmentally safe materials and offer a 24/7 customer service center, online scheduling, in-home color design consultations, and detailed quotes. All painters are bonded and insured employees. For more information, visit http://www.FreshCoatPainters.com or visit us on Facebook, Twitter or Pinterest.
The company was founded in 2004 as part of Strategic Franchising Systems. In the last year, Fresh Coat has been included in the Bond's Top 100 and named to Entrepreneur Magazine's Franchise 500 list. Fresh Coat is also part of the International Franchise Association, the Small Business Association's Franchise Registry, VetFran and Minority Fran.
About Sherwin Williams
Through its more than 4,000 stores and 2,400 sales representatives, Sherwin-Williams provides fast, flexible, responsive service and personalized, expert advice to meet the coating and color needs of builders, designers, specifiers, property managers and contractors. As North America's largest single-source supplier of high-quality paints, stains, masonry coatings and brand-name wall and floor coverings, Sherwin-Williams is proud to have earned the EPA Presidential Green Chemistry Challenge Award for its innovative acrylic alkyd technology. Visit sherwin-williams.com or join Sherwin-Williams on Facebook, Twitter, Instagram and Tumblr.