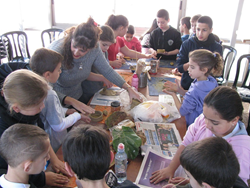 New York, NY (PRWEB) November 05, 2014
A UNICEF report released this week and reported in the Times of Israel revealed that child poverty in Israel increased to a record 35.6% of its total child population, ranking it behind only Greece, Latvia and Spain. The report, entitled "Children of the Recession: The Impact of the Economic Crisis On Child Well-Being In Rich Countries", also indicated that Israel has the highest rate of young adults aged 15 – 24, 30.7%, who are not in education, employment or training. While some of that can be attributed to the country's mandatory military service, it more importantly points out the need for organizations like the Israel Tennis Centers, serving over 20,000 children throughout Israel with critical life skills that will enable them to succeed as adults.
"The problems have not ended for children and their families, and it may take years for many of them to return to pre-crisis levels of well being," the report said. "Failing to respond boldly could post long-term risks."
It is a precarious situation that the Israel Tennis Centers know all too well. Since 1976, the ITC has been a refuge for almost a half million Israeli children and their families. In fact, most recently, in response to the devastating impact of the war with Hamas over the summer, the ITC established the Shana Tova Scholarship Fund to assist hundreds of children whose families could no longer afford to pay for the vital services that the ITC provides…and which they so desperately need as evidenced by this latest study.
"At the Israel Tennis Centers, no child is ever turned away," said ITC VP of Global Development Jacqueline Glodstein. "The UNICEF report further points out the need our young people have that cannot be ignored."
ITC programs go far beyond helping children become better tennis players. The real focus is becoming better human beings, prepared to meet the serious challenges that lie in front of them. Through its social impact programs, a wide range of children are served, including youth at risk, immigrants and children with special needs, from autism and ADHD to Down Syndrome as well as those with developmental and physical disabilities. Tennis also has the ability to bring together children from different backgrounds in peaceful coexistence, promoting understanding, cooperation and friendship on and off the court.
To support these important initiatives, the ITC has expanded its fundraising efforts to include new US markets, including an upcoming event in Atlanta on November 9th. A team of Israeli players and coaches are being flown in to the U.S. to play in exhibitions and share their stories about the ITC and the impact it has had on their lives. For more information, contact ITC Development Director Yoni Yair at 954-480-6333 or yyair(at)israeltenniscenters(dot)org. You can also learn more about the ITC by clicking on the link below to view our latest video.
https://www.youtube.com/watch?v=dqxywzUwLb8
About the Israel Tennis Centers Foundation:
The Israel Tennis Centers Foundation (ITC) is a 501 (c) 3 not-for-profit organization that works tirelessly through the medium of sport to enhance the development of Israeli youth. Since opening its first center in Ramat Hasharon in 1976, the ITC has helped over 400,000 children, many of whom come from outlying development towns throughout Israel. The ITC's 14 centers stretch from Kiryat Shmona on the Lebanese border in the North to Beer Sheva bordering the Negev Desert in the South. http://www.israeltenniscenters.org.
Contacts:
Jacqueline Glodstein
ITC Vice President/Global Development
646-884-7450
jglodstein(at)israeltenniscenters(dot)org
Richard Weber
ITC Global Director of Marketing
646-884-7410
rweber(at)israeltenniscenters(dot)org