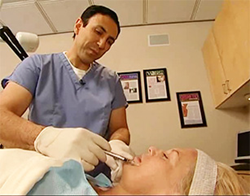 Los Angeles, CA (PRWEB) November 04, 2014
On November 4, 2014, CNN Money posted an online report titled "Botox Isn't Just for Women: Why so Many Men are 'Bro-tox' Obsessed" that details the 310% increase in men receiving Botox treatments compared to a decade ago. According to the American Society of Plastic Surgeons, 385,000 U.S. men received a Botox treatment in 2013. Several possible explanations for this increase were explored, with the overall increase in the acceptability of aesthetic procedures considered the largest factor. (see: goo.gl/RkQAjE)
"We've undoubtedly noticed an increase in the number of male patients we see in our clinic," says Dr. Simon Ourian, Medical Director of Epione Beverly Hills. "This increase is not just for Botox treatments but across the board, including dermal filler injections, laser skin resurfacing, and non-surgical liposuction."
According to the CNN Money report, other drivers of this increase include the perceived need of job-seeking older men to appear younger. Two-thirds of 45-74 year old workers reported experiencing age discrimination. Another driving factor is that Botox treatments can be done quickly, the injections themselves taking only a few minutes. Finally, the report states that many men are motivated to pursue aesthetic treatments by the women in their lives.
"I have every expectation the number of men seeking aesthetic treatments will continue to rise," says Dr. Ourian. "I also expect there will be new treatment protocols developed specifically for the aesthetic needs of men."
Dr. Ourian has been a pioneer in laser technology and non-invasive aesthetic procedures including Restylane, Juvéderm, Radiesse, Sculptra, and CoolSculpting. These treatments are used for the correction or reversal of a variety of conditions such as acne, acne scars, skin discoloration, wrinkles, unwanted fat, stretch marks, varicose veins, cellulite, and others. More information about Botox can be found on Epione's website.