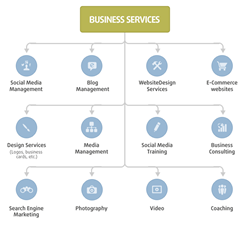 At the Hispanic Chamber of E-Commerce, our goal is to give all of our clients the best possible return on their investment. - Tayde Aburto
San Diego, CA (PRWEB) November 04, 2014
Today's business owners are well aware of the importance of online marketing. The need to establish a strong Internet presence is inarguable, and as such it comes as no surprise that online marketing services are so numerous. In fact, this is a mixed blessing for small business owners: The need for online marketing is paramount, yet selecting the right marketing service can be daunting. In an effort to assist family-owned businesses with this important task, the Hispanic Chamber of E-Commerce has unveiled a new lineup of Internet marketing services—including full consultation services.
"In today's marketplace, there are countless companies that offer marketing services," comments Tayde Aburto, founder of the Hispanic Chamber of E-Commerce. "For family-owned businesses, the process of selecting the best marketing service can be confusing and overwhelming, and finding a company you can trust to deliver results is not easy. However, the Hispanic Chamber of E-Commerce is an organization devoted to helping small, family-owned businesses thrive in an online setting. We have a track record that speaks for itself."
Aburto says the vision for these new marketing services is to help small business owners get their message out, in as efficient and effective a manner as possible. "We want to ensure that the members of the HISCEC get off on the right foot, that they have the right message and the right prospects in mind," he affirms. "This is why our services always begin with a consultation. We will conduct a thorough assessment of the client's needs before we recommend any specific services."
The specific services being offered by the Hispanic Chamber of E-Commerce are numerous. They include social media management, blog management, website design, video, search engine marketing, and beyond. Logo and business card design, comprehensive social media training, and e-commerce website building are also provided.
"Over the years I have seen many fly-by-night Internet marketing companies offering their services in the community," Aburto adds. "They offer low-quality services at a high price and in many cases, they offer a lot of services to small businesses that they don't even need."
Concludes Aburto, "At the Hispanic Chamber of E-Commerce, our goal is to give all of our clients the best possible return on their investment. A lot of the services are going to be offered directly by the HISCEC and others throughout a network of qualified partners. Each one of the companies that we have selected to work with provides high-quality services at a very affordable cost. Plus their work is supervised by the Hispanic Chamber of E-Commerce to make sure that our members receive the service that they paid for."
More information about the Hispanic Chamber of E-Commerce can be found at http://www.hiseb.com.
ABOUT
The Hispanic Chamber of E-Commerce is a benefit corporation using the power of business for social good. The organization combines the values of a non-profit with the flexibility and innovation of a tech startup. HISCEC's mission is to promote the use of the Internet as a business tool to help family owned businesses to become more competitive.