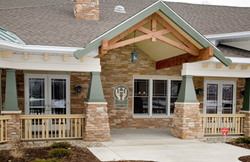 The surveyors commented that, 'The patient care is outstanding. Everything was perfect,' and, 'It was so evident how educated the entire staff is.'
South Bend, Indiana (PRWEB) November 05, 2014
On Monday, October 6, 2014, surveyors from the Indiana State Department of Health began a survey for continued Indiana hospice state licensure, and, federal certification for continued participation in the Medicare Hospice Benefit program at Center for Hospice Care. The agency received a "perfect survey" and a finding of no deficiencies.
The Indiana State Department of Health surveyors began their investigation by looking for anything out of compliance or patient care issues. They did this by:

Visiting all three care offices in South Bend, Plymouth and Elkhart.
Making in-person visits to Center for Hospice Care patients in residential homes, nursing homes, and both Hospice Houses.
Carefully Reviewing randomly selected patient charts from all of the above settings searching for errors or missing documentation from all disciplines, including Bereavement client charts, programming, and outcome measurements.
Reviewing Human Resource/personnel files for both staff and volunteers.
Reviewing patient care policies with a specific eye toward infection control and Quality Assurance Performance Improvement (QAPI) projects.
Interviewing various care staff regarding their personal knowledge of the Hospice Medicare Conditions of Participation, the numerous recent changes to those regulations, as well as their personal familiarity with internal Center for Hospice Care patient care policies and procedures.
Since Center for Hospice Care's last survey six years ago, the federal regulations for Medicare hospice have gone through some major changes. In the past, there may have two changes a year along with a year's notice to get ready for them. In 2009, that began to change, and increasingly more regulatory initiatives went into effect each year. In 2014 alone, the hospice industry is dealing with 14 different regulatory changes.
At the conclusion of the four-day survey, there were no deficiencies or non-compliance issues found. The surveyors commented that, "The patient care is outstanding. Everything was perfect," and, "It was so evident how educated the entire staff is."
"For hospice licensure and federal certification, this time around, against far greater challenges than we've ever faced before, I couldn't be more proud of the staff at Center for Hospice Care," expressed Mark Murray, President and CEO. "Like every success we experience, it is always a team effort, and our Center for Hospice Care team members are superior across the board in every way.
"Center for Hospice Care provides remarkable care to its patients, follows all of the rules and regulations while doing so, and makes a profound, positive difference in our community. Because we know and believe that no matter what, it all comes down to a quality day of care at the patient bedside."
Center for Hospice Care is a premier not-for-profit, community-based agency improving the quality of living through hospice, home health, grief counseling, and community education. With offices in South Bend, Plymouth, and Elkhart, Center for Hospice Care serves St. Joseph, Marshall, Elkhart, Fulton, Kosciusko, LaGrange, LaPorte and Starke Counties. For more information, log on to http://www.centerforhospice.org.