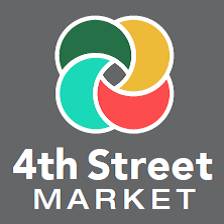 "The source of many of these items is as special as the impact of the sales," says Sherrill.
Chattanooga, TN (PRWEB) November 06, 2014
With the upcoming holiday season, many Christians look for ways to participate in gift-giving and keep the focus of the season on Christ. A new merchandise line satisfies both desires with items whose proceeds benefit local and national ministries. 4th Street Market donates proceeds from sales to the local chapter of The Salvation Army and international ministry, Pocket Testament League.
The idea for the store came from a group of women looking for ways to keep the holiday season focused on Christ and avoid (as much as possible) the over commercialization of the holiday. According to brand manager, Karen Sherrill, "It's not about avoiding gift-giving. Christmas is a time of celebration. As Christians, we choose to focus this celebration, complete with gift-giving, on Christ."
"The source of many of these items is as special as the impact of the sales," says Sherrill. She adds that some items are imported through missionary organizations, such as Rahab's Rope, which exists to provide physical and spiritual hope and renewal for victims of Human Trafficking in India, Mission Lazarus which glorifies God by advancing His kingdom through holistic ministry and social enterprise with educational, medical, agricultural, and spiritual outreaches, and Fashion and Compassion, which sources from ministries to offer economic empowerment and opportunity to impoverished individuals as they heal spiritually and emotionally.
"We are excited to support organizations that meet the needs of people, educate them and share the gospel," says Sherrill. To support ministries through our purchasing and proceeds is core to who we are, she adds.
Still, not all items in the line are imported. Many are made by local craftsmen and some items are purchased through traditional merchandising lines.
"Our focus for the line is beautiful or fun items that anyone would be proud to own. We add significance to the purchase by using proceeds to support evangelism," says Sherrill.
4th Street market merchandise is available online at 4thstreetmarket.org and will be available through retail shops such as Grace 251 in Dalton and Cleveland for the holiday season. Because many of the items are handmade, not all items are available at all locations. "We love the uniqueness of some of these items," says Sherrill. She adds that the line is in its infancy this season. "People can expect to see an expansion of our product lines as we work with missionary organizations to determine how we can support their efforts," adds Sherrill.
4th Street Market is a wholesale and retail company with a mission to advance the gospel through the purchase and sale of high quality merchandise. For more information on purchasing items or featuring 4th Street Market items in your retail location, visit 4thstreetmarket.org.