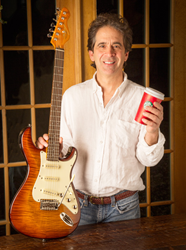 Now my signature guitars cost less than a daily cup of coffee.
Chicago, IL (PRWEB) November 05, 2014
Dean Zelinsky Private Label Guitars today announces a unique easy payment option for its customers through Affirm, an alternative financing company founded in 2013 by PayPal co-founder, Max Levchin. Dean Zelinsky, company CEO, formed this business relationship to help his guitar playing customers acquire guitars with instant financing, and easy payment terms, in addition to saving hundreds of dollars by purchasing through his direct-to-consumer website, http://www.deanzelinsky.com.
With Pay with Affirm, customers of Dean Zelinsky Private Label Guitars will now be able to purchase brand new guitars online, with no money down. Zelinsky calls this 'Play Before You Pay.' Customers shopping the Dean Zelinsky Guitars website simply select Affirm at checkout. After answering a few basic questions, they are instantly approved and the guitar is on its way. The first monthly payment starts thirty days after purchase and has no hidden fees.
Dean Zelinsky is all about getting great guitars to players at very affordable pricing. Financing consumers is a major piece to the puzzle, making it easy for any player (young, old, rich or poor) to own a world-class guitar designed by legendary guitar maker, Dean Zelinsky.
"Instant financing and easy monthly payments are what I envisioned for my Dean Zelinsky Guitar brand since the rollout in July 2013," stated Mr. Zelinsky. "I want everybody to be able to afford one of my guitars. I am already bypassing retailers to offer my guitars at 30% less than the competition. With the payment plan, players can purchase a truly great guitar that competes with any $2,000 guitar for roughly two dollars a day. That's less than a daily cup of coffee."
Zelinsky went on to say, "In addition to our great financing offer, we guarantee our $649 Tagliare Z-Glide Custom model, with a flame maple top and my patented Z-Glide® neck (my best selling model) to sound, play and feel better than any $1500 Fender American Strat or their money back."
"Customers win by shopping my website with Pay with Affirm," concluded Zelinsky.
Dean Zelinsky invites anyone shopping for a new guitar to give this new system a try with no credit card needed.
---
About Affirm:
Affirm is a new kind of financial company, founded by Max Levchin in 2013. Affirm uses data to solve problems in finance, offering consumer credit at the point of sale. Levchin was the co-founder PayPal, is current chairman of online review site Yelp. Affirm offers consumers easy short-term financing without a catch. The company does not use tricks like deferred interest or late fees and customers avoid the costly and consumer-unfriendly credit card APRs. For more information go to http://www.affirm.com
About Dean Zelinsky Private Label Guitars:
Dean Zelinsky Private Label Guitars is the creation of master guitar builder Dean Zelinsky. Dean Zelinsky Private Label Guitars represents the crowning point of Zelinsky's 38 plus years as a guitar designer to the stars. The Dean Zelinsky Private Label guitar collection includes the Tagliare, Strettavita and Zenyatta. Selected models feature new guitar technology options, such as his patent-pending Z-Glide® (Reduced Friction) Neck. Celebrated guitarists such as ZZ Top's Billy Gibbons, Pantera's Dimebag Darrell, Michael Schenker, Sammy Hagar, Elliot Easton of The Cars, Megadeth's Dave Mustaine, Heart's Nancy Wilson, Leslie West, Kerry Livgren of Kansas, Iron Maiden, Def Leppard and scores of others have all played guitars designed and built by Zelinsky. Now, musicians can buy the same quality instrument direct from the man who created such luminary guitars. The company has a USA facility in the Chicago, IL suburbs, offshore manufacturing and worldwide distribution. Dean Zelinsky Private Label Guitars range from $369 to $6,000. For more information, please visit http://www.deanzelinsky.com.