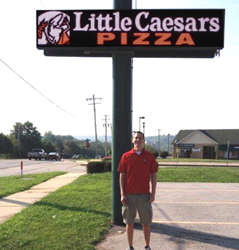 It gives me a lot of personal satisfaction when I can help a business grow!
Arnold, MO (PRWEB) November 06, 2014
Joe Daniel, the owner of Little Caesars in Arnold, MO, chose an LED sign because his business is situated on the very busy 4-lane U.S. Hwy 61-67 coming south out of St. Louis, MO. The business sits back about 150' from the highway and can be easily missed. So, to capture the huge traffic flow everyday, he decided to trade out his old static "Little Caesars" sign for a dynamic LED sign which is constantly moving and getting attention. Joe was impressed by the product knowledge and professionalism of Allan Jones, owner of Jewell Sign Company, who recommended an LED sign from California-based manufacturer Vantage LED. According to Mr. Daniel, Jewell Sign Company was very professional in providing, training, and installing the new LED sign for maximum visibility and effectiveness.
Allan Jones started his sign career in 2004 working as an independent sign representative for a national sign company for the Midwest Region. In 2007, he founded Jewell Sign Company to better serve his clients. By starting his own company, he was able to focus on providing the best service to his clients by giving them more options and competitive pricing while not sacrificing quality.
One of the vendors he chose to partner with was Vantage LED based in Ontario, CA, because of their emphasis on high quality LED products, innovative features, and their 5 year parts and on-site labor warranty. The first person he spoke with at Vantage LED was Bruce Murray. Allan stated he was very friendly, easy to talk with, and more than willing to answer any question he had; a real industry professional. Vantage LED recently provided (5) billboard-sized displays for the FanFest events in Brazil for the world cup.
Allan also chose Vantage LED because they are very involved with "giving back" wherever they can. For example, Vantage LED is very supportive of several charities such as Children In Crisis, 100 Mile Club, and Relay for Life which benefits the American Cancer Society.
Mr. Jones stated, "Vantage LED knows how to work with people, and give them the best service. They are truly a visionary company with heart. I'm proud to work with them as a partner!"
He continued, "One of my first clients was a super market chain in Missouri. The owner uses Vantage LED products exclusively, and as a result, his bottom line has increased substantially."
Mr. Daniel's business at Little Caesars also picked up immediately. With his LED sign, he can put up the "Little Caesars" logo along with the "HOT-N -READY $5.00 Special", the "3 MEAT TREAT", the waving American flag, and the time of day. He can program any custom message he chooses. Joe Daniel called Allan about 2 months after the installation and stated, "Allan, my business is up 23% already, from this same time last year! I'm really excited! Thanks again, Allan!"
Mr. Jones summed up, "I am proud that my company is part of this process! It gives me a lot of personal satisfaction when I can help a business grow!" LED signs allow the business owner to display multiple custom messages that are beautiful, bright, and dynamic. They grab the attention of passers-by, not only to increase the business's traffic, but sales as well, and Little Caesars Pizza in Arnold, MO is proof that they work.