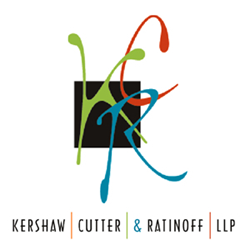 "This is a settlement that provides an avenue for compensation for people who have already undergone revision surgery," says Brooks Cutter
Sacramento, California (PRWEB) November 04, 2014
C. Brooks Cutter of Kershaw, Cutter & Ratinoff LLP announced today that Stryker Orthopedics, a subsidiary of Stryker Corporation has agreed to a settlement program for all patients that have received a Rejuvenate Modular Neck System or an ABG II Modular Neck System and have undergone revision surgery to remove and replace their device by November 3rd, 2014.
Stryker's proposed settlement would offer a base amount of $300,000 to each claimant.
Brooks Cutter, a founding partner of Kershaw, Cutter & Ratinoff LLP, was selected to the Plaintiff's Steering Committee for the Multi-District Litigation in Minnesota. The agreement applies to the cases in Minnesota, as well as cases filed in New Jersey State Court.
"This is a settlement that provides an avenue for compensation for people who have already undergone revision surgery. The base compensation will be $300,000 and there are enhancements based on a variety of factors, such as an ostomy during revision surgery that significantly increase the base award," says Cutter.
The proposed settlement is voluntary and applies to citizens of the United States that have received either the Rejuvenate or ABG II hip replacements and have had revision surgery to remove their device by November 3, 2014.
In June 2012, Stryker Orthopedics recalled both models after receiving hundreds of adverse reports citing serious complications, including: metallosis (metal poisoning and premature failure of the device.
Kershaw, Cutter & Ratinoff LLP is a Sacramento-based civil justice law firm that has successfully represented individuals nationwide in multiple lawsuits involving metal hip litigation. The firm is also recognized for their successful track record representing clients in defective medical devices, dangerous drugs, product liability, and class action matters.
We offer free and confidential case reviews. For more information, please visit our website http://www.kcrlegal.com or http://www.cutterlaw.com. You can also give us a call Toll Free (855) 767-7699.
In Re: Stryker Rejuvenate & ABG II Modular Hip Implant Litigation, case number BER-L-936-13, in the Superior Court of the State of New Jersey, County of Bergen and In re: Stryker Rejuvenate and ABG II Hip Implant Product Liability Litigation, MDL Docket No. 13-2441 in Minnesota Federal Court.