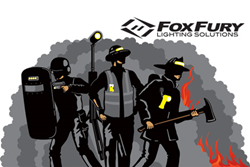 Our new facility will enable us to better serve our clients around the world
Oceanside, CA (PRWEB) November 06, 2014
FoxFury Lighting Solutions has completed its move to its new corporate headquarters in Oceanside, CA, which is in the Seagate Corporate Center. North American customers can also now call FoxFury toll-free at 844-FOXFURY (844-369-3879).
FoxFury Lighting Solutions spent its first 11 years in Vista, CA. The company was founded with the mission of creating an LED surfing headlamp. Customer feedback prompted a shift in focus to professional markets including first responders and industrial professionals. FoxFury now offers a wide array of niche LED lighting tools including portable scene lighting, forensic light sources and intrinsically safe headlamps.
The move to Oceanside provides the company with a larger facility for R&D, product design, sales, marketing and order fulfillment. This new location in the Seagate Corporate Center in Oceanside, CA makes it easier for customers to access.
"Our new facility will enable us to better serve our clients around the world," said Mario Cugini, CEO of FoxFury.
FoxFury has also announced its new toll-free phone number 844-FOXFURY (844-369-3879). This new number will allow North American customers to call FoxFury toll-free for support Mon-Fri from 8am to 5pm PST. Customers can still call in via the local phone line of 760-945-4231.
About FoxFury Lighting Solutions:
FoxFury Lighting Solutions creates unique and cutting edge lighting products that reflect the needs of our customers, who demand quality and dependability. FoxFury is best known for its niche LED headlamps designed for specific markets including Fire, Industrial, Hazardous Area, Law Enforcement, Forensics and Recreational. FoxFury was formed in 2003 and operates out of Vista, CA USA. You can follow FoxFury on Twitter @foxfuryLED