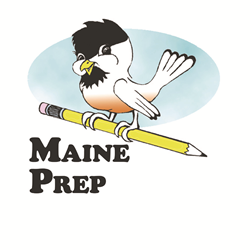 I would highly recommend Maine Prep to students of all skill levels looking to boost their scores.– Julia Anastos, Yarmouth '14; Georgetown '18
Cumberland, ME (PRWEB) November 07, 2014
Maine Prep, Maine's largest SAT and ACT prep company, is expanding its business to include small group SAT prep classes in a cozy 2-story building at 299 Main St., Cumberland, Maine. Classes are geared to help students earn higher SAT scores which the research says are necessary for success in finding a job after college.
The first eight-session SAT class, designed especially for area high school juniors who plan to apply Early Decision to college, meets on Wednesdays, 6:30 to 8:30 p.m., from November 12 to January 21, to prepare students for the January 24, 2015 SAT. The teacher is Master Coach, Jessica Kaplan. The second set of SAT classes begins Tuesday, January 13, 2015 to prepare students for the March SAT. Group ACT classes begin in late February.
Maine Prep has helped thousands of students raise SAT and ACT scores, boost their admission chances to selective colleges and qualify for merit scholarships. But now, with the research saying students with high SAT scores do better in the job market after college, securing higher paying jobs, Maine Prep is even more motivated to help students improve those SAT scores which will stay with them for many years to come.
According to Zachary Treu in an online PBS Newshour article, "Some employers ask applicants for their scores on the SAT, even if the potential interviewee is years out of college." In addition, the vice president of a Colorado software company told the Wall Street Journal, "In my experience, people with high SAT scores tend to do better." See video here.
Maine Prep also helps students become aware of the significant admissions advantage of applying early. In order to have time to take all required tests more than once before the November senior year Early Decision deadline, college applicants must sit for their first SAT or ACT in January or March of their junior year. This gives students the opportunity to achieve the best possible scores, scores that they will need again in another four years for their job applications.
"Every selective college admits a higher percentage of early applicants than of regular applicants," says Avery et al in The Early Admissions Game. "Applying early provides a significant admissions advantage, approximately equivalent to the effect of a jump of 100 points in SAT score."
Maine Prep was founded in 2002 by Jack Mahoney, who during the 1990s taught all major tests and trained new test prep teachers for Stanley Kaplan in New York City. That year, Mahoney created the first edition of Maine Prep's acclaimed TEN for TEN SAT prep curriculum, designed to help students decode the test, polish their skills, raise their comfort level, and score higher. 
From a kitchen table, five students, and one teacher, Maine Prep quickly grew. Within three years, the company had opened its first office in Brunswick, trained several talented teachers, expanded group class offerings to four new locations throughout Maine, and began training high school teachers to teach the Maine Prep curriculum in their schools. Students - and their parents - were discovering the benefits of prepping for the SAT.
With its expansion into Cumberland, the company now teaches SAT classes in four permanent offices and five other locations in Maine, from Bangor and Brunswick to South Portland and Kennebunk and employs a faculty and staff of fourteen. Maine Prep's coaches use the company's original TEN for TEN curriculum to teach students effective strategies to use in the math, writing and reading sections of the SAT. Maine Prep's TEN for TEN is also taught in Dallas, Texas.
For complete information about Maine Prep's SAT and ACT classes and private tutoring, call the Maine Prep offices, 207-798-5690, or visit http://www.maineprep.com.
About Maine Prep: Maine Prep, with its main office located at 22 Parkers Way, Brunswick, Maine, has helped thousands of high school students raise their SAT scores and be more competitive when applying for college admission and merit scholarship awards. In addition, under the guidance of Jack Mahoney, Maine Prep has worked with many college students to improve their grad, law, and business school prospects. Maine Prep employs a faculty and staff of fourteen and prepares students for the SAT, ACT, GRE, LSAT, GMAT, and SSAT in nine different Maine locations.
Contact:  Jack Mahoney, Founder, Maine Prep  207-798-5690 maineprep(at)gmail(dot)com  http://www.maineprep.com