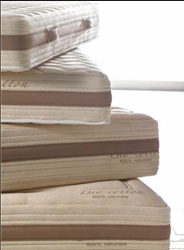 Miami, Florida (PRWEB) November 11, 2014
The Magniflex Toscana line is a nature inspired memory foam mattress collection that is 100% organic; it's the perfect solution for those who want a sustainable environmentally friendly product but don't want to give up comfort. The Toscana line features exclusive proprietary materials:

Ecogreen foam: A flexible yet firm soy based foam is ideal for support and alignment of shoulder and neck, back and limbs.
Geo Memory Foam: Offers the cushioning body support that adapts naturally to the body to comfort and support during sleep.
Soothing Natural Oils: Essential oils and Aloe vera are infused into the materials to add additional soothing and relaxing properties.
Organic Covers: All memory foam covers are 100% organic cotton that are fresh and comfortable to touch and offers maximum breathability. They are easy to remove and wash.
Featuring Highest Quality Standard and Craftsmanship
Magniflex focuses its efforts and expertise on the experience of sleep by delivering the most technologically advanced memory foam products combined with the highest quality Italian craftsmanship and design. Their advanced technology and top notch craftsmanship is what has made them the #1 selling mattress in Italy.
They are one of the only mattress companies that has received the exclusive and sought after OEKO TEX certification which certifies that all mattresses and materials are absent of harmful substances that are toxic and harmful to people and the environment.
Reducing Carbon Footprint
Magniflex's commitment to the environment help consumers live in a better world. Their custom vacuum pack technology reduces the size of a mattress down by 90%. That means less trucks on the road and a significant reduction in C02 emissions.
Why is Magniflex Memory Foam Different?
Magniflex has its own technology and research center in Tuscany, Italy and has been developing its own memory foam materials for over 50 years. While many companies now outsource their production overseas, every part of a Magniflex mattress is made locally in Italy. In addition what makes Magniflex memory foam sought after is the high density cell structure that makes the foam more reactive to the pressure of the body versus body heat which is typical of other memory foam mattresses. This superior technology eliminates the "heat flash" effect that most consumers complain about with memory foam. Magniflex mattresses are a breath of fresh air that offer a satisfying sleep.
More details on the collection can be found at http://www.magniflex.com