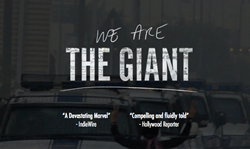 "No faculty outshines the group who teach here," added Andrea Swift. "They're exceptional teachers and exceptional filmmakers with unique voices. It's no surprise and no accident that so many of them made the list"
New York, NY (PRWEB) November 05, 2014
With Oscar season nearing and only months away from the 87th Academy Awards on February 22, 2015, the New York Film Academy Documentary Department is gearing up in anticipation once again, as a number of their faculty and students are officially in the running for an Academy Award.
Last year, NYFA Documentary graduate Muhammad Hamdy was cinematographer and co-producer of one of the five nominees for Best Documentary Feature, The Square, for which he won an Emmy Award. His latest project, We Are The Giant, lensed by Hamdy, is once again in the run. This film, which shares a similar theme to The Square, tells the gripping tales of ordinary people who are transformed by the critical, moral and personal challenges they encounter when standing up for what they believe is right. The documentary premiered to much praise at the 2014 Sundance Film Festival earlier this year.
"Hamdy arrived with an amazing eye and the kind of presence that makes him 'one of us' to whomever he's filming," said NYFA Documentary Chair, Andrea Swift. "Since graduating, he has quickly become such a sought-after cinematographer that he's having to pass on amazing projects just so he can carve out a few weeks here and there to work on his own film."
In addition to Hamdy's back-to-back potential for an Oscar nod, there are another four documentaries coming out of the New York Film Academy Documentary Faculty:

Death Metal Angola - Director Jeremy Xido
Elena - Director, Petra Costa
Particle Fever -Director of Photography, Claudia Raschke
Dancing In Jaffa - Director Hilla Medalia, Editors Philip Shane and Bob Eisenhardt
"No faculty outshines the group who teach here," added Andrea Swift. "They're exceptional teachers and exceptional filmmakers with unique voices. It's no surprise and no accident that so many of them made the list"
New York Film Academy Documentary Instructor Jeremy Xido's Academy Award qualifying, Death Metal Angola opens in theaters in Los Angeles this Friday, November 7th. The film has already generated buzz at festivals and is a critical favorite amongst critics. The Huffington Post calls it, "A cult classic in the making, beautiful film," while The Hollywood Reporter added that it's, "raucously crowd pleasing."
Jeremy will be hosting a special Q&A on opening night in Los Angeles at AMC Burbank Town Center 8. For those in the New York City area, Jeremy will host a Q&A on November 21st at Cinema Village.
A shortlist of 15 nominees for Best Documentary will be announced this December.