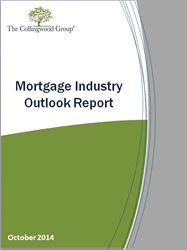 I think all the regulations combined have unintended consequences
Washington, DC (PRWEB) November 06, 2014
A new survey finds mortgage and housing industry professional remain skeptical about a housing recovery, and most are not planning to loosen credit scores to allow more people to borrow due to federal regulatory fears.
Those are the results of the latest Collingwood Group Mortgage Outlook Report.
The survey of mortgage and housing industry insiders, conducted October 16-31 finds an overwhelming 71% of respondents saying it is "somewhat" to "extremely" unlikely that they will lower credit scores for borrowers.
One of the survey respondents says, "It just isn't worth the risk."
Last month FHFA Chairman Mel Watt signaled to mortgage bankers that they could loosen their lending standards, but survey respondents say they don't think when push comes to shove the feds will back them up.
Survey respondents were almost evenly split on their feelings about business conditions compared to last year. It is clear that there has been no drastic improvement in business conditions given that only 1% of respondents said that business conditions are "much better."
About half of the respondents dubbed conditions either "a little worse" (22%) or "a little better" (31%). Those who reported that business conditions are "a little better" explained that they are "slowly originating more loans" and that the "purchase business provides a degree of stability not possible in a refinance environment."
One anonymous lender who thinks business conditions are worse says, "The regulatory issues are making loans more expensive for consumers, slowing the process, tightening funds." Others told us, "pent up demand has waned" and that "margins are very tight and volume is down substantially."
Almost two-thirds of survey respondents say that CFPB Rules are causing the most anxiety.Other respondents say that it is not one source of regulations that cause anxiety but rather the volume of complex and sometimes contradictory regulations are what is most burdensome. One respondent says "I think all the regulations combined have unintended consequences."
The data was collected via an online survey distributed to a diverse group of mortgage industry leaders. The mortgage and housing professionals surveyed represent various originators, lenders, servicers, and other industry participants.
A copy of the complete report can be downloaded here:
http://info.collingwoodllc.com/mortgageindustryoutlook_oct_14
About the Collingwood Group
The Collingwood Group is a Washington, D.C.-based business advisory firm. It was founded on a single idea: To help clients grow and protect their businesses."
The team includes the former head of FHA, the former head of Ginnie Mae, and additional partners who have held senior leadership positions in HUD, Fannie Mae, Freddie Mac, and other major financial services organizations. Clients range from the Fortune 50 to small and mid-size businesses, with a strong concentration in financial services and technologies.