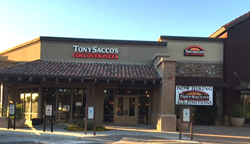 This is the way pizza was made originally in 1905. It took a little relearning, but the end result is worth it. I'm confident our customers will appreciate the unique taste of this amazing pizza.. said paisano Alex Durham
Chandler, AZ (PRWEB) November 11, 2014
The search for the perfect pizza has been going on since the first pizza restaurant opened in New York in 1905. The quest has come to a halt at Tony Sacco's Coal Oven Pizza as they opened the newest location in Chandler Arizona on Monday, November 10th, 2014! Located in the Chandler Heights Market Place, at the northwest corner of Gilbert Road and Chandler Heights.
Believe it or not, the secret to the Tony Sacco's Coal Oven Pizza unique flavor lies in their custom built coal fired oven. At a blistering temperature of over 1000 degrees wonderful flavors are extracted into beautiful hand-crafted pizzas. The savory crust, vibrant sauce, and mouth-watering toppings contribute to what is believed to be the ideal pizza.
Tony Sacco's offers an extensive lunch and dinner menu that includes salads, sandwiches, wraps, wings, pizza, and dessert. All food is made fresh. No Freezers, Fryers, or Microwaves are used. General Manager and Culinary Specialist Alex Durham has been working hard to perfect the coal oven method. "This is the way pizza was made originally in 1905. It took a little relearning, but the end result is worth it. I'm confident our customers will appreciate the unique taste of this amazing pizza," he said. "Rotolis are my favorite menu item! I could eat them with every meal."
"We are in the perfect location to embrace neighboring businesses, residents and winter visitors," said Tony Sacco's owner Leslie Beatty. "We hope to become an active member of the local community and believe with our unique menu, comfortable environment and friendly staff, we are well on our way." Beatty's location is the thirteenth restaurant in the growing chain.
Tony Sacco's was started in Estero Florida by two friends from Michigan, Chuck Senatore, and George Kurajian. Their mission was to bring back the original taste and quality of pizza the way it was made when the first pizzerias were opened in the early 1900′s. This required the use of a coal burning oven, homemade sauce and dough, and fresh, hand-cut toppings.
By combining their years of restaurant experience and using old family recipes, they have claimed success! Everything they serve is prepared fresh daily. Tony Sacco's restaurants have no freezers, fryers, grills or microwave ovens. Everything is made fresh to order and baked in their coal oven. And now they are offering you a piece of the pie, with a Tony Sacco's franchise.
When making a pizza, there is no substitute for using the best ingredients. At Tony Sacco's they start with freshly made dough and the finest quality cheeses and toppings. But the real secret is drawing out all the flavors by going back to where it began – the coal oven. The coal oven was the mainstay of the early pizza restaurants in New York and the Northeast and is experiencing a resurgence thanks to Tony Sacco's Coal Oven Pizza.
Capable of temperatures of 1000° or more, the intense heat of the coal oven creates a pizza with a subtle, smoky flavor, a crispy crust and golden brown cheese. In the words of a true pizza aficionado, "it's a pie that would bring your Italian grandmother to tears."
The atmosphere at Tony Sacco's Coal Oven Pizza in Chandler, AZ is contemporary, yet cozy. While they focus on the family experience, many nine-to- fivers will enjoy a stop in after work to relax at the trademark granite bar for cocktails and happy hour appetizers. Hours of operation are: Sunday through Thursday 11:00 am – 10:00 pm and Friday through Saturday 11:00 am – 11:00 pm.
For more information and to follow Tony Sacco's progress visit http://www.tonysaccos.com or Tony Sacco's Chandler on Facebook, and Twitter.