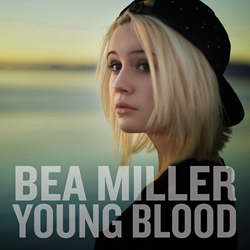 (PRWEB) November 11, 2014
With her rebellious spirit and extreme sports prowess, it's no wonder that Bea Miller happens to be a big fan of
T.U.K. shoes! She's been spotted rocking T.U.K.'s Hello Kitty Black & White Mondo Creepers, Distressed Ankle Nosebleed Boot, and more. Check out Bea wearing her T.U.K. burgundy velvet creeper wedges in her latest music video "Young Blood" here: https://www.youtube.com/watch?v=fMMNrth246k
Bea Miller was an unforgettable contestant on the second season of The X Factor. Now 15 years old and with a few years of songwriting and touring under her belt, Bea released her debut EP, Young Blood, which peaked at #2 on the iTunes Pop Chart.
Consisting of four tracks, the EP finds Bea joining forces with producers like busbee (Pink, Kelly Clarkson), Jarrad Rogers (Icona Pop, Demi Lovato) and Mike Del Rio (Kylie Minogue, Selena Gomez) to craft a batch of songs that channel Bea's untamable energy into melody-charged pop rock. A stand-out is the title track, "Young Blood," in which the outspoken Bea gives voice to her generation – she considers it to be an ode to misfit kids everywhere.
Download the Young blood EP on iTunes here: http://smarturl.it/bmep1
About T.U.K. Footwear
Since their start in 1991, the San Diego, CA based footwear company T.U.K. has been creating bold, original footwear for men and women. Footwear made for and inspired by bands, music fanatics, fashionistas, and individuals with eclectic tastes. With their huge range from traditional classics to modern upstarts they are constantly providing creative style with an original edge.
For more information, please visit http://www.tukshoes.com.