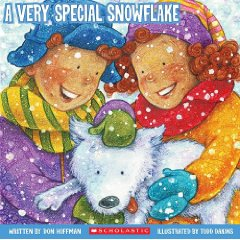 This is a unique opportunity to take a children's book title that is amazingly successful, and recreate the user experience.
Alexandria, VA (PRWEB) November 06, 2014
Brightline Interactive, a leader in creating place-based digital experiences for major brands, has ventured into a new category. In partnership with celebrated children's book author Don Hoffman, Brightline created an immersive literary experience for children. A Very Special Snowflake, which to date has sold more than one million paperback copies worldwide, is being brought to life, creating an interactive digital version that features motion graphics, animations, and sound design for a new reader experience. The eBook will be available through iTunes stores in early November.
Consistent with Brightline's mission to create one-of-a-kind technology-based experiences, the company incorporated several unique features to give A Very Special Snowflake readers a memorable iPad experience. Among the features are hidden animations and sound effects, "Hide and Seek Your Face" which enables the reader to insert their image into the story, and a "Create-Your-Own-Scene" component where readers can digitally design their own winter wonderland. Also included is "Where's Snowflake?" where readers search the snow-filled scenery for the white puppy, tapping the screen to bring him to life.
Giving readers control over their reading experience is something Brightline highlighted in this eBook creation. By utilizing the iPad's accelerometer, readers can control the movement of the snowfall, characters and other scenery by tilting the iPad from side to side. "By adding these unique features, readers can enjoy the story and prolong their experience with the book. It's something children can get involved in and continue to come back to," said Brightline Interactive, CEO and CCO, Erik Muendel.
Since 1999, Author Don Hoffman, has penned more than two dozen children's books for publishers such as Scholastic, Imagine, Charlesbridge Publishing, Dalmatian Press & Popcorn Press. Hoffman drew national acclaim for A Very Special Snowflake, after this title sold more than one million paperback copies. "I can't tell you how excited I am to be partnering with Brightline Interactive – the industry's leader for one-of-kind digital experiences," said Hoffman. "I waited for the right creative technology company to come along before I would allow any of my titles to be put into eBook or App form. My hope is that this partnership presents an opportunity for my loyal readers to re-experience my books, both past and future, in a completely new exciting way."
"By working with such a well-known and successful children's book author such as Don Hoffman, we have set the bar extremely high," Muendel added. "This is a unique opportunity to take a children's book title that is amazingly successful, and recreate the user experience. As a company we've been doing that with consumer brands for years, and doing that to enhance children's reading involvement is awesome."
About Brightline Interactive
Brightline reimagines technology for consumer brand experiences through place-based interactivity. Brightline creates, builds, and produces fun digital experiences for global brands at major sporting events, entertainment venues and public location-based properties for automotive, CPG, technology, airlines, beverages and other products and services. Headquartered in Alexandria, VA, Brightline is committed to creating innovative, viral and scalable brand activations.
http://www.brightlineinteractive.com
About Don Hoffman
Don Hoffman is an Emmy Award-winning children's book author and a Society of Children's Book Writers and Illustrators (SCBWI) fellow. His previous books include Billy is a Big Boy and A Very Special Snowflake. Hoffman's other credits include television reporter, and director of communication and public affairs in Milwaukee, WI, for one of the nation's largest urban school districts. He makes his home in New York City, and enjoys presenting exciting, interactive, informative, and whimsical presentations to children in schools, bookstores, and libraries.
http://www.donhoffmanauthor.com
###