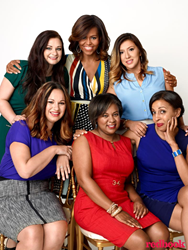 "We need to shine a light on this issue.....The transition is tough."
Arlington, VA (PRWEB) November 05, 2014
First Lady Michelle Obama will deliver keynote remarks on the Joining Forces Initiative at Business and Professional Women's (BPW) Foundation and Redbook career forum for transitioning service women and women veterans returning to the civilian workforce. The First Lady joins national and local business leaders to offer career development advice and opportunities to transitioning service women and women veterans returning to the civilian workforce. This first-of-its-kind, interactive forum will connect women veterans and transitioning servicewomen to resources designed to connect them to careers after leaving military service.
The forum, held at the Women in Military Service for America Memorial (WIMSA) at Arlington National Cemetery, follows on a White House roundtable discussion led by First Lady Michelle Obama, who has championed issues surrounding service members, veterans, and their families. The discussion, featured in the November issue of Redbook, focused on the employment of five women veterans, and the unique obstacles they faced during their transition from active duty military service.
"Our military vets deserve our honor, attention and support," said Redbook editor in chief Meredith Rollins. "They put their lives on the line for us when they're in the service, and we need to help them when they return to civilian life, now and forever. We are honored to be teaming up with the First Lady and BPW to shed light on these issues and help make a real difference for these women."
The roundtable discussion also highlighted BPW Foundation's research and the ongoing work of Joining Forces Mentoring Plus®, BPW's program that connects women veterans with working women mentors to provide career coaching and resources.
"We need to shine a light on this issue," the First Lady said. "A lot of people think you come out of the military and the country is taking care of you, but the transition is tough." The upcoming forum will focus exclusively on the unique needs of women veterans, many of whom are single mothers and caregivers, to help them get 'career ready'.
In addition to special remarks from the First Lady, the forum will include an awards ceremony honoring business women and employers who are making a difference in their veteran communities; interactive demonstrations of employment tools like the Veterans Employment Center, informative panels and workshops on topics ranging from resume building, personal branding, interviewing tips, civilian finances, education and credentialing, and career fashion. The participants will also have the opportunity network with employer partners who will have access to their resumes.
"We know that eleven-percent of women veterans are unemployed – that's higher than either male vets or civilian women, and that doesn't count the large number of women vets who are under-employed," says Deborah L. Frett, Executive Director of Joining Forces Mentoring Plus. "These women are our neighbors, sisters, aunts and cousins and are looking to serve our industries and communities with their talent, expertise, and dedication; and that's what this forum is all about."
Forum Panels, Workshops and Participants Include:

Opening remarks by Secretary of Veterans Affairs Robert A. MacDonald;
Where the Careers Are panel on women veteran career opportunities and hiring initiatives in key industry sectors, with participation from Booz Allen Hamilton, Oracle and other industry leaders;
Personal Branding panel sharing tips from LinkedIn and other organizations on creating an e-presence and marketing oneself;
Career Classics with Redbook and Ann Taylor, a dynamic fashion presentation with stylist Brad Goreski and Lisa Axelson, Creative Director Ann Taylor, that will showcase versatile wardrobe staples for interviews and the work-week;
Address on Entrepreneurship from Bobbi Brown offering motivational words and advice on trusting your instincts;
Preparing for Meaningful Employment workshop will provide resources, strategies and tools that will work to best prepare for a successful job and career search;
Education and Credentialing: What Leads to Employment workshop will provide attendees with valuable information and tools to help move forward; and
Financial Literacy: Understanding Civilian Finances & How They Impact You workshop will teach understanding and calculating of job benefits, credit/debt management, etc.
The Women Veterans Career Development Forum is made possible with the generous support of TriWest Healthcare Alliance, Booz Allen Hamilton and other corporate partnerships.
Interviews available upon request:

5 Women Veterans featured in the November issue of REDBOOK
Redbook editor in chief Meredith Rollins
Joining Forces Mentoring Plus Executive Director, Deborah Frett
Rosye B. Cloud, Senior Advisor for Veteran Employment
Mentors and Mentees participating in Joining Forces Mentoring Plus program
Women veteran and transitioning service women attendees
Lisa Axelson, Creative Director Ann Taylor
Bobbi Brown, Founder and COO, Bobbi Brown Cosmetics
The First Lady's appearance will be pooled for broadcast media and open to print and still photographers. Members of the media who wish to cover the First Lady's remarks must RSVP to Hayes PR by 5pm on Thursday, November 6, 2014, by email at bpwfoundation@hayespr.com. Press who do not have a White House hard pass must include their full legal name, social security number, date of birth, country of citizenship, current city/state of residence and gender in their request.
Confirmation emails will be sent with further specifics on event and timing.
About Business and Professional Women's Foundation (BPW)
BPW Foundation is a 501 (c) (3) research and education organization. The work of BPW Foundation supports workforce development programs and workplace policies that recognize the diverse needs of working women, communities and businesses. For more information, please visit http://bpwfoundation.org.
About REDBOOK
Redbook (http://www.redbookmag.com) is the shopping and style guide for today's modern women, full of smart fashion, real beauty and stylish, do-able recipes and décor tricks. Curating the very best products and ideas, Redbook helps its nine million readers enjoy their nonstop lives. As an iconic brand thriving in print, online, mobile and social, Redbook makes great style accessible for every woman. Follow Redbook on Twitter and Facebook. With 21 titles in the U.S., Hearst is the leading publisher of monthly magazines in terms of total paid circulation (AAM 1H 2014) and reaches 83 million adults (Spring 2014 MRI; includes HGTV prototype).
About Joining Forces
In 2011, First Lady Michelle Obama and Dr. Jill Biden came together to launch Joining Forces, a nationwide initiative calling all Americans to rally around service members, veterans, and their families and support them through wellness, education, and employment opportunities. Joining Forces works hand in hand with the public and private sector to ensure that service members, veterans, and their families have the tools they need to succeed throughout their lives. For more information, please visit http://www.whitehouse.gov/joiningforces.
# # #