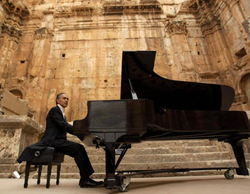 Toledo, OH (PRWEB) November 07, 2014
In a pair of unique evenings, the Toledo Symphony, conductor Stefan Sanderling and featured guest Abdel Rahman El Bacha will present the ambitious Chopin Project, including Chopin's complete works for piano and orchestra performed over two nights. Friday night's program will include Chopin's Piano Concerto No. 1 and Fantasy on Polish Airs, as well as the first three movements of Bedřich Smetana's Má Vlast (My Fatherland). Saturday night Chopin's Piano Concerto No. 2 and Grande Polonaise Brilliante will precede the last three movements of Má Vlast.
Abdel Rahman El Bacha is a dual citizen of France and Lebanon. Born in Beirut in October 1958 into a family of musicians, he started to study the piano in 1967 with Zvart Sarkissian. In June 1978 at the age of nineteen he won the Queen Elisabeth of Belgium Competition by a unanimous judgement, and at the same competition was awarded the Audience Prize. In 2010, Abdel and Stefan Sanderling recorded the complete piano and orchestra works of Chopin. He currently performs all over Europe, in Japan, the Middle East and in the United States.
This concert will also be the inaugural Stewardship Circle sponsored concert. The Stewardship Circle is an initiative, started by the Toledo Symphony's most dedicated patrons and donors, to raise funds in support of one pair of Classic Series concerts per year. Each year the Stewardship Circle will honor donors who have gone above and beyond the call for support. For its first sponsored concert the Stewardship Circle has chosen to honor former chairman Dick Anderson and his wife Francis.
These concerts will take place on November 14 and 15, 2014 at the Toledo Museum of Art's Peristyle at 8PM and will be preceded by a lecture about the concert given by Daniel John Carroll at 7PM.
For Tickets
Visit the Toledo Symphony Box Office at 1838 Parkwood Ave, Toledo (M-F 9-5), call (419) 246-8000, or click http://www.toledosymphony.com for online purchases. Tickets are also available at the door the evening of the concert. Tickets start at $24.
Student Rush tickets are available for $5 at the door
The Toledo Symphony
With roots as early as 1838, the Symphony sees itself as the musical heart of Northwest Ohio, supporting Neighborhood and Regional Concerts, a School of Music and three youth orchestras in addition to traditional concert offerings (Classics, Pops, Family, Mozart & More and Chamber).