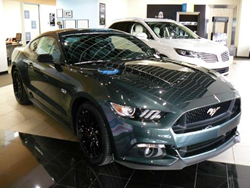 The 2015 Ford Mustang was totally redesigned and looks incredible in person.
Hurlock, MD (PRWEB) November 06, 2014
Ford has just recently released the new 2015 Mustang to dealers across the US. As a result, this traditional American muscle car is available at Preston Ford in Hurlock, Maryland, as well as Boulevard Ford in Georgetown, Delaware. The Ford Mustang is in its 50th year of existence, so this is a much anticipated model year.
The 2015 'Stang is massively better than the one it replaces. One of the biggest changes are the updated suspensions, front and rear. Last year's version of this car, was said to have an awfully bouncy ride. Even the smallest of bumps in the road made it uncomfortable. Ford seems to have listened to that feedback and put an independent rear suspension on it. Once they did that, they found the front suspension could not work in harmony with the upgraded rear – so they changed the front too. Ford really went above and beyond to make the 50th year of the Mustang a special year with these massive upgrades.
This Mustang comes with a wide range of engine options. People who are concerned about fuel economy but still want to ride in style, can do that in the 2.3-Liter 4-Cylinder EcoBoost model. However, those that want the traditional beast of an engine will want to stick with the 5.0L V8 GT, which has an outstanding 435 horsepower. With every 2015 Mustang you get the classic three-spoke steering wheel, touchscreen display, and aluminum accents throughout the interior.
Preston Ford in Hurlock, Maryland, already has a few of these 2015 muscle cars. Boulevard Ford in Georgetown, Delaware, also has a couple. More are on the way every single week, so be sure to check out their website http://www.prestonmotor.com.