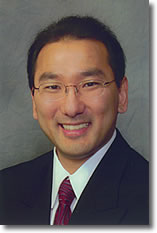 Fremont, CA (PRWEB) November 05, 2014
Dr. Colin T. Yoshida is the holistic dentist in Fremont, CA who recognizes Pancreatic Cancer Awareness Month with extra education about the need for gum disease treatment in his patients. Many studies have shown strong links between the presence of ongoing gum disease and increased risk of pancreatic and other types of cancers. The infection that causes periodontal disease is thought to travel through the bloodstream to other organs in the body where the bacteria can cause damage and result in complications in conditions such as diabetes and heart disease.
Among the treatment goals for Dr. Yoshida, the holistic dentist who Fremont, CA patients trust for thorough dental services, is a detailed education about the urgent need for gum disease treatment. Experts estimate that the epidemic of periodontal disease affects two out of every three Americans who live with some degree of untreated gum disease in their mouth. Gum disease is a progressive condition that can lead to irreversible damage to gum tissue and supporting bone.
While receding gums can be caused by various factors including genetic predisposition, grinding of teeth or side effects of medications, gum recession is also one of the potential warning signs of gum disease. Other signs may include:

Discolored or red gums
Bleeding gum tissue
Painful gums
Persistent bad breath or mouth odor
People who see signs of periodontal disease must consult with a dentist for a full evaluation of the condition and treatment recommendations. For some people, regular dental cleanings along with good dental hygiene can control gum disease. Others require professional gum disease treatment to prevent the disease from advancing and presenting other risks such as pancreatic cancer.
Learn more about all the services available from the holistic dentist that Fremont, CA residents trust for advanced gum disease treatment options by calling (510) 648-3184. For more information and education on the links between oral health and whole body health, visit the web at http://www.fremontdentistry.com.
About the Doctor
Colin T. Yoshida, DDS is a general dentist offering personalized dental care for patients in Fremont, CA. Dr. Colin Yoshida graduated from University of the Pacific School of Dentistry and is part of one percent of dental professionals providing the LANAP® FDA cleared laser procedure for gum disease treatment. To learn more about Dr. Yoshida and his dental services, visit his website at http://www.fremontdentistry.com and call (510) 648-3184.