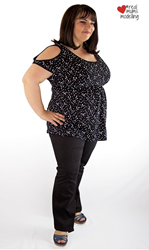 I was more than happy to volunteer to be a 'real mum' model as let's face it... after three babies, your body definitely is not the way it use to be
(PRWEB) November 08, 2014
Milk and Love, based in Queensland Australia, is a retailer of fashion, designed for nursing mothers, has a philosophy that is based on 'real life'. It has now carried that philosophy through to its new revamped catalogue, by photographing real new mums, not professional models, wearing its clothing range.
"Our clothing is stylish and made with natural fibres" explained Milk and Love owner, Corryn Barakat. "To use professional models with unrealistic post-pregnancy bodies modelling our clothing range just didn't fit with our philosophy - we wanted real mums."
In planning the businesses' latest catalogue photo shoot in August, Milk and Love took on board comments from its current clients.
"After hearing back from a number of our customers that the models used for our stock images don't look like they've even had kids, we decided to do a photo shoot featuring real mums (customers of ours) wearing our clothes" said Corryn. "We like them so much that we will be adding them to our website as well."
Milk and Love has a commitment to supporting breastfeeding mums, providing inspiration and information through its blog and social media, and through an ongoing relationship with the Australian Breastfeeding Association.
"A part of that commitment is normalising post-baby bodies, and showing new mums that they are still fabulous and beautiful, and through this photo shoot we wanted to reinforce our body-positive message" said Corryn.
Customers Volunteer To Be 'Models'
Milk and Love is a very customer-focused business and has strong relationships with its client base - so much so that customers volunteered to be in the catalogue.
"I was more than happy to volunteer to be a 'real mum' model as let's face it... after three babies, your body definitely is not the way it use to be" said Sharon, one of the new Milk and Love catalogue models. "To be able to see these clothes on everyday women (not model-type figures who haven't had a baby, or model-type mums whose job requires them to exercise) might help other every day women relate to these clothes and feel good about themselves when they wear them."
The new Milk and Love catologue, featuring its customer-models is to be released this month. In the meantime, the businesses range of breastfeeding clothes can be seen at http://www.milkandlove.com.au
About Milk and Love
Founded in 2012 by a breastfeeding mum, Milk and Love is a small business with a passion for breastfeeding, gentle parenting, and feeling fabulous. It markets a range of breastfeeding and maternity wear that is designed especially for, and worn by, breastfeeding mums - they know what's important in breastfeeding clothes.
The fashion range embraces natural fibres like super soft bamboo and organic cotton.