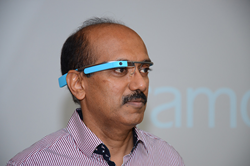 Chennai, India (PRWEB UK) 6 November 2014
Ramco Systems, an enterprise software company focusing on enterprise cloud platform, products and services, announced the launch of ERP on Wearable Devices, to address the postmodern ERP era with a future-ready Cloud ERP offering.
Building on its strong foundation of offering customers mobile and cloud based enterprise applications, Ramco launched a host of technology features, including: use of Google® Glass™ in a Maintenance scenario, Procurement and Inventory management on Pebble® Watch, solving last-mile connectivity and logistics using In-memory computing (IMC) among others.
Commenting on the rising trend of postmodern ERP, Mr. Virender Aggarwal, CEO, Ramco System, said "Globally, there is a shift in the way ERP applications are being consumed. The era of seeing ERP as a 'system of record' is passé. Enterprises are looking for IT applications to solve business problems. Our platform based approach to building ERP has enabled us to launch solutions on Wearables and integrate with in-memory based engine to deliver business value to users. This is the future and we are among the forerunners in this game."
Concurrently, Ramco also announced the results for the second quarter of FY 2014-15.
For the quarter ended September 30, 2014 (Q2:14-15), global income of Ramco Systems Limited, including revenues from subsidiaries in USA, Canada, Switzerland, Singapore, Malaysia, Australia, South Africa, Sudan and Dubai stood at USD 14.61m. The revenue showed a healthy growth of 12.4% QoQ and 42% YoY in dollar terms. The profit for the quarter stood at USD 0.53M.
Highlights:

New Order booking showed a healthy growth of 20% QoQ, and 109% YoY
Software continues to find global acceptance with revenue from markets outside India clocking in 72%
Ramco continued to add marquee names across product lines, including Dabur in India, one of the largest helicopter operators in Europe, US-based Aviation Company providing to Government & Commercial enterprises and a global fortune 500 company for its MENA operations
Commenting on the results, Mr. P.R. Venketrama Raja, Vice Chairman and Managing Director, Ramco Systems Limited, said, "Indian IT is at a major inflection point with a surge in IP-led product firms emerging from India. This is the next 'sunshine' segment for Indian IT which is battling immense cost pressures and low degree of differentiation in the global market. With three successful cloud offerings well accepted in the global market, we are well poised for a global play in the enterprise cloud market."
"We embarked on a massive transformation exercise which is nearly complete. Our revenues have consistently been growing and investor sentiment positive. We expect the growth momentum to continue", added Mr. Raja.
*Google and Glass™ are registered trademarks of Google Inc.
*Pebble is a registered trademark of Pebble, Inc.
About Ramco Systems:
Ramco Systems provides next generation, end-to-end enterprise solutions that render complete transformation of the business in real time. Built on Ramco VirtualWorks®, all Ramco products are cloud architected by design and address the entire business cycle from transaction to analytics. Part of the USD 1 Billion Ramco Group, the company offers ERP, HCM, MRO, M&E, SCM, CRM, Financials, Service Management, Asset Management, Process Control, Project Management and Analytics to multiple verticals on the most appropriate cloud model—public, private and community. Ramco focuses on providing innovative business solutions that can be delivered quickly and cost-effectively in complex environments. Globally, Ramco has over 150,000 users from 1000+ customer organizations. The company has 20 offices spread across India, USA, Canada, Europe, Middle East, South Africa and APAC.
For more information, please visit http://www.ramco.com; Follow Ramco on Twitter @ramcosystems/read latest news & updates on http://www.ramco.com/blog
For further information please contact:
Vinitha Ramani
+91 - 9840368048
vinitharamani(at)ramco(dot)com
Safe Harbor
Certain statements in this release concerning our future growth prospects are forward looking statements which involve a number of risks and uncertainties that could cause actual results to differ materially from those in such forward looking statements. The risks and uncertainties relating to these statements include, but are not limited to risks and uncertainties regarding fluctuations in earnings, our ability to manage growth, intense competition in IT business including those factors which may affect our cost advantage, wage increases in India, our ability to attract and retain highly skilled professionals, time and cost overruns on fixed-price, fixed-time frame contracts, client concentration, restrictions on immigration, our ability to manage our international operations, reduced demand for technology in our key focus areas, disruptions in telecommunication networks, our ability to successfully complete and integrate potential acquisitions, liability for damages on our service contracts, withdrawal of governmental fiscal incentives, political instability, and unauthorized use of our intellectual property and general economic conditions affecting our industry. Ramco Systems may, from time to time, make additional written and oral forward-looking statements, including statements contained in our reports to shareholders. The company does not undertake to update any forward-looking statement that may be made from time to time by or on behalf of the company.